Blood Tubing Set
Haemodialysis Blood tubing set has been specially designed for the patient to connect external system which extracts patient's blood to the dialyzer and then returns patient's blood from the dialyzer. Haemodialysis Blood Lines specially used for continuous blood supplies during haemodialysis process.
Blood Tubing Sets are disposable bloodlines, intended to transfer blood from patients' vascular access system to the hemodialyzer through an arterial tubing, and from the hemodialyzer to the patient vascular system via a venous tubing.
Consists of 2 parts: Arterial and Venous line which are used during dialysis with attached fistula and dialyzer.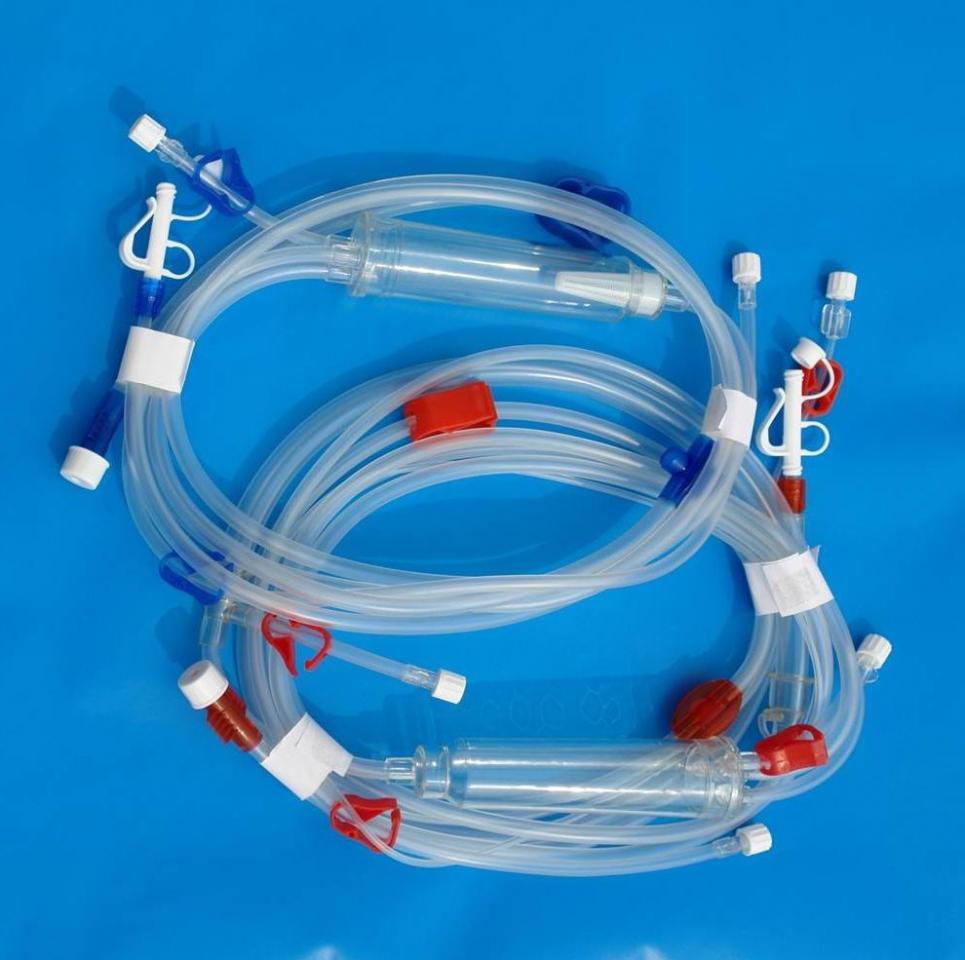 Features
Made of clear and non-toxic PVC / DEHP Free PVC
Highly kink resistant tubing
Latex Free, Non-Toxic and non-pyrogenic
Single-use, EO Sterilized & Individually Packed
Large finger guard and latex free injection sites.
Large and small clamps provide features for ideal ergonomics.
To ensure secure lock of dialyser ports grip, connectors of wing shape provided.
For secure and smooth connection to patient's vascular access, wing connectors of wing shape are provided.
Drip chambers are available in different models and sizes, soft and rigid, straight and cone shaped as per the clients specifications.
No colored parts of these tubing sets are in direct contact to blood.
Sterilization can be done in three possible ways which includes ETO, Steam and Gamma.
Accessories like priming bag, infusion line and others are pre-connected.
An intravenous administration set for use in administration of intravenous fluids to a dialysis set in conjunction with hemodialysis procedures.
AV fistula needle set to apply on the access site of patient vessel to draw the blood flow adequate to pass through the dialyser and reinfusion of dialysed blood back to patient vessel via the A.V. Fistula Needle Set during hemodialysis procedures and/or A transducer protector for use as protective devices for pressure monitors, and to help protect the sterility of the fluid pathway.
Medical grade PVC tube, ensure the biggest safety on human body and can easily equipped with different dialysis machines.
Available in any configuration as per customer's requirement for various dialysis machines.
| Part No. | Description | Medium Package | Bulk Package |
| --- | --- | --- | --- |
| CBBTS010 | Post Pump Blood Tubing Set with TP | 5 /pack | 25 /pack |
| CBBTS020 | Post Pump Blood Tubing Set with Filter | 5 /pack | 25 /pack |
| CBBTS030 | Post Pump Blood Tubing Set with Drainage Bag | 5 /pack | 25 /pack |
| CBBTS040 | Post Pump Blood Tubing Set with TP and Filter | 5 /pack | 25 /pack |
| CBBTS050 | Post Pump Blood Tubing Set with TP and Drainage Bag | 5 /pack | 25 /pack |
| CBBTS060 | Post Pump Blood Tubing Set with Filter and Drainage Bag | 5 /pack | 25 /pack |
| CBBTS070 | Post Pump Blood Tubing Set with TP, Filter and Drainage Bag | 5 /pack | 25 /pack |
| CBBTS080 | Pre-Pump Blood Tubing Set with TP | 5 /pack | 25 /pack |
| CBBTS090 | Pre-Pump Blood Tubing Set with Filter | 5 /pack | 25 /pack |
| CBBTS100 | Pre-Pump Blood Tubing Set with Drainage Bag | 5 /pack | 25 /pack |
| CBBTS110 | Pre-Pump Blood Tubing Set with TP and Filter | 5 /pack | 25 /pack |
| CBBTS120 | Pre-Pump Blood Tubing Set with TP and Drainage Bag | 5 /pack | 25 /pack |
| CBBTS130 | Pre-Pump Blood Tubing Set with Filter and Drainage Bag | 5 /pack | 25 /pack |
| CBBTS140 | Pre-Pump Blood Tubing Set with TP, Filter and Drainage Bag | 5 /pack | 25 /pack |