TissueStor™ Tissue Freezing Bags
TissueStor™ Tissue Storage Bags are an ideal choice to protect samples during cryopreservation at -196°C temperatures
TissueStor™ Tissue Freezing Bags are designed for the long-term storage of tissues & tissue components, bones, skin, and cartilage at low temperatures ranging from -80°C down to -196°C.
TissueStor Tissue Freezing Bags are made of CellStor EVA Film CSES1402 with variety of sizes to meet a wide range of applications in tissue storage.
They are very resistant to tearing and puncture, making them the ideal option for archiving and safeguarding cell and tissue samples. TissueStor Tissue Freezing Bags are also provided with additional protection of CellStor Overwrap Bags which is also possesses high cryoresistance and biocompatible and can be stable upto to -80°C and down to -196°C.
Applications
There are different kinds of tissues like placental, umbilical cord tissues, Amniotic membrane, xenografts cells and tissues, skin grafts, Heart valve, Wharton's Jelly, Limbal cells and tissues, Tendons, Pancreas islets, and Bones are stored under various storage conditions like refrigeration, static cold storage, cryopreservation for therapeutic purposes.
TissueStor Tissue Freezing Bags are supportive for a wide range of tissues and tissue graft storage effectively by maintaining the physio-pathological properties of tissue for effective transplant or achieving the architecture of tissue during storage condition.
TissueStor Tissue Freezing Bags for Skin/Cutaneous grafts on Storing with CellSol DMSO are perfect combos for better storage.
Features
Made of CellStor Ethylene Vinyl Acetate (EVA) film
Fit for storage in both liquid and vapor phases of liquid nitrogen tanks. Suitable for long term storage down to -196°C
Biocompatible – USP Class VI and ISO 10993 compliant
Extremely resistant to mechanical strain
Bags have walls of uniform thickness for homogenous freezing and thawing of samples
Wide range of bag size choices to preserve a variety of tissue and tissue components
Compatible with RF and heat sealing processes
Shelf-life of 36 months
Sterile and individually packed in Tyvek pouches
Advantages
Cryopreservation
Suitable for long-term storage in liquid nitrogen at low temperatures down to -196°C.
Material & Biocompatibility
TissueStor Freezing Bags are made of CellStor EVA Film CSES1402 which is biologically inert and making them compatible with variety tissues and tissue grafts storage.
Sample Visibility
Although the bag material has a matte finish, it is translucent and allows for easy observation of the stored sample through the film.
Additional Protection
TissueStor Tissue Freezing bags are provided with Overwrap Bags which are biocompatible and survive as an additional protection for the tissue.
Easy Bag Sealing
TissueStor Tissue Freezing Bags are effortlessly heat sealable and RF sealable. They are compatible with most of the standard lab sealers and CellBios Sealers are also available to seal both TissueStor Tissue Freezing Bag as well as CellStor Overwrap Bag for Protection.
Buffer Exchange
Tubing is built into the bag to allow exchange of storage buffer through needle free connectors. Alternate connectors are available on request.
Sterilization
TissueStor bags are gamma sterilized and helpful in aseptic transfer of tissues and their storage.
TissueStorTM Tissue Freezing Bag is available with or without tubing and with or without Overwrap Bag.
Refer our CellStor® Overwrap Bags brochure for further information on overwrap bags.
Specification / Ordering Information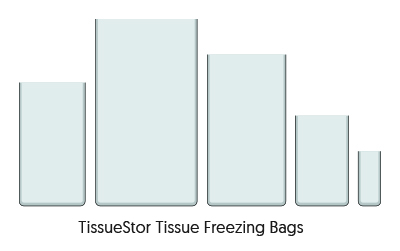 TissueStorTM Tissue Freezing Bags
Part Number
Description
Width x Length
(mm)
Tyvek
Packing
Primary
Packing
Master
Packing
TE30X80S
TissueStor Tissue Freezing Bag, 30x80
30 x 80 mm
1 /pouch
24 /case
120 /carton
TE30X90S
TissueStor Tissue Freezing Bag, 30x90
30 x 90 mm
1 /pouch
24 /case
120 /carton
TE30X105S
TissueStor Tissue Freezing Bag, 30x105
30 x 105 mm
1 /pouch
24 /case
120 /carton
TE40X105S
TissueStor Tissue Freezing Bag, 40x105
40 x 105 mm
1 /pouch
24 /case
120 /carton
TE60X105S
TissueStor Tissue Freezing Bag, 60x105
60 x 105 mm
1 /pouch
24 /case
120 /carton
TE60X120S
TissueStor Tissue Freezing Bag, 60x120
60 x 120 mm
1 /pouch
24 /case
120 /carton
TE60X160S
TissueStor Tissue Freezing Bag, 60x160
60 x 160 mm
1 /pouch
24 /case
120 /carton
TE90X105S
TissueStor Tissue Freezing Bag, 90x105
90 x 105 mm
1 /pouch
24 /case
120 /carton
TE90X180S
TissueStor Tissue Freezing Bag, 90x180
90 x 180 mm
1 /pouch
24 /case
120 /carton
TE100X150S
TissueStor Tissue Freezing Bag, 100x150
100 x 150 mm
1 /pouch
24 /case
120 /carton
TE100X180S
TissueStor Tissue Freezing Bag, 100x180
100 x 180 mm
1 /pouch
24 /case
120 /carton
TE110x90S
TissueStor Tissue Freezing Bag, 110x90
110 x 90 mm
1 /pouch
24 /case
120 /carton
TE120X160S
TissueStor Tissue Freezing Bag, 120x160
120 x 160 mm
1 /pouch
24 /case
120 /carton
TE130X200S
TissueStor Tissue Freezing Bag, 130x200
130 x 200 mm
1 /pouch
24 /case
120 /carton
TE130X250S
TissueStor Tissue Freezing Bag, 130x250
130 x 250 mm
1 /pouch
24 /case
120 /carton
TE135X105S
TissueStor Tissue Freezing Bag, 135x105
135 x 105 mm
1 /pouch
24 /case
120 /carton
TE135X200S
TissueStor Tissue Freezing Bag, 135x200
135 x 200 mm
1 /pouch
24 /case
120 /carton
TE135X300S
TissueStor Tissue Freezing Bag, 135x300
135 x 300 mm
1 /pouch
24 /case
120 /carton
TE140X200S
TissueStor Tissue Freezing Bag, 140x200
140 x 200 mm
1 /pouch
24 /case
120 /carton
TE140X300S
TissueStor Tissue Freezing Bag, 140x300
140 x 300 mm
1 /pouch
24 /case
120 /carton
TE150X275S
TissueStor Tissue Freezing Bag, 150x275
150 x 275 mm
1 /pouch
24 /case
120 /carton
TE180X320S
TissueStor Tissue Freezing Bag, 180x320
180 x 320 mm
1 /pouch
24 /case
120 /carton
TE200X150S
TissueStor Tissue Freezing Bag, 200x150
200 x 150 mm
1 /pouch
24 /case
120 /carton
TE200X380S
TissueStor Tissue Freezing Bag, 200x380
200 x 380 mm
1 /pouch
24 /case
120 /carton
TE210X310S
TissueStor Tissue Freezing Bag, 210x310
210 x 310 mm
1 /pouch
24 /case
120 /carton
TE220X180S
TissueStor Tissue Freezing Bag, 220x180
220 x 180 mm
1 /pouch
24 /case
120 /carton
TE250X420S
TissueStor Tissue Freezing Bag, 250x420
250 x 420 mm
1 /pouch
24 /case
120 /carton
TE300X150S
TissueStor Tissue Freezing Bag, 300x150
300 x 150 mm
1 /pouch
24 /case
120 /carton
TE300X500S
TissueStor Tissue Freezing Bag, 300x500
300 x 500 mm
1 /pouch
24 /case
120 /carton
TE750X150S
TissueStor Tissue Freezing Bag, 750x150
750 x 150 mm
1 /pouch
24 /case
120 /carton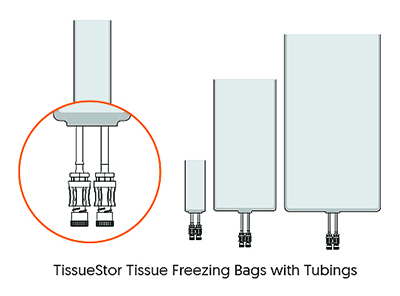 TissueStorTM Tissue Freezing Bags with Tubings
Part Number
Description
Width x Length
(mm)
Tyvek
Packing
Primary
Packing
Master
Packing
TE30X80ST
TissueStor Tissue Freezing Bag with Tubing, 30x80
30 x 80 mm
1 /pouch
24 /case
120 /carton
TE30X90ST
TissueStor Tissue Freezing Bag with Tubing, 30x90
30 x 90 mm
1 /pouch
24 /case
120 /carton
TE30X105ST
TissueStor Tissue Freezing Bag with Tubing, 30x105
30 x 105 mm
1 /pouch
24 /case
120 /carton
TE40X105ST
TissueStor Tissue Freezing Bag with Tubing, 40x105
40 x 105 mm
1 /pouch
24 /case
120 /carton
TE60X105ST
TissueStor Tissue Freezing Bag with Tubing, 60x105
60 x 105 mm
1 /pouch
24 /case
120 /carton
TE60X120ST
TissueStor Tissue Freezing Bag with Tubing, 60x120
60 x 120 mm
1 /pouch
24 /case
120 /carton
TE60X160ST
TissueStor Tissue Freezing Bag with Tubing, 60x160
60 x 160 mm
1 /pouch
24 /case
120 /carton
TE90X105ST
TissueStor Tissue Freezing Bag with Tubing, 90x105
90 x 105 mm
1 /pouch
24 /case
120 /carton
TE90X180ST
TissueStor Tissue Freezing Bag with Tubing, 90x180
90 x 180 mm
1 /pouch
24 /case
120 /carton
TE100X150ST
TissueStor Tissue Freezing Bag with Tubing, 100x150
100 x 150 mm
1 /pouch
24 /case
120 /carton
TE100X180ST
TissueStor Tissue Freezing Bag with Tubing, 100x180
100 x 180 mm
1 /pouch
24 /case
120 /carton
TE110X90ST
TissueStor Tissue Freezing Bag with Tubing, 110x90
110 x 90 mm
1 /pouch
24 /case
120 /carton
TE120X160ST
TissueStor Tissue Freezing Bag with Tubing, 120x160
120 x 160 mm
1 /pouch
24 /case
120 /carton
TE130X200ST
TissueStor Tissue Freezing Bag with Tubing, 130x200
130 x 200 mm
1 /pouch
24 /case
120 /carton
TE130X250ST
TissueStor Tissue Freezing Bag with Tubing, 130x250
130 x 250 mm
1 /pouch
24 /case
120 /carton
TE135X105ST
TissueStor Tissue Freezing Bag with Tubing, 135x105
135 x 105 mm
1 /pouch
24 /case
120 /carton
TE135X200ST
TissueStor Tissue Freezing Bag with Tubing, 135x200
135 x 200 mm
1 /pouch
24 /case
120 /carton
TE135X300ST
TissueStor Tissue Freezing Bag with Tubing, 135x300
135 x 300 mm
1 /pouch
24 /case
120 /carton
TE140X200ST
TissueStor Tissue Freezing Bag with Tubing, 140x200
140 x 200 mm
1 /pouch
24 /case
120 /carton
TE140X300ST
TissueStor Tissue Freezing Bag with Tubing, 140x300
140 x 300 mm
1 /pouch
24 /case
120 /carton
TE150X275ST
TissueStor Tissue Freezing Bag with Tubing, 150x275
150 x 275 mm
1 /pouch
24 /case
120 /carton
TE180X320ST
TissueStor Tissue Freezing Bag with Tubing, 180x320
180 x 320 mm
1 /pouch
24 /case
120 /carton
TE200X150ST
TissueStor Tissue Freezing Bag with Tubing, 200x150
200 x 150 mm
1 /pouch
24 /case
120 /carton
TE200X380ST
TissueStor Tissue Freezing Bag with Tubing, 200x380
200 x 380 mm
1 /pouch
24 /case
120 /carton
TE210X310ST
TissueStor Tissue Freezing Bag with Tubing, 210x310
210 x 310 mm
1 /pouch
24 /case
120 /carton
TE220X180ST
TissueStor Tissue Freezing Bag with Tubing, 220x180
220 x 180 mm
1 /pouch
24 /case
120 /carton
TE250X420ST
TissueStor Tissue Freezing Bag with Tubing, 250x420
250 x 420 mm
1 /pouch
24 /case
120 /carton
TE300X150ST
TissueStor Tissue Freezing Bag with Tubing, 300x150
300 x 150 mm
1 /pouch
24 /case
120 /carton
TE300X500ST
TissueStor Tissue Freezing Bag with Tubing, 300x500
300 x 500 mm
1 /pouch
24 /case
120 /carton
TE750X150ST
TissueStor Tissue Freezing Bag with Tubing, 750x150
750 x 150 mm
1 /pouch
24 /case
120 /carton
Note: LxH – Length X Height, OWB – Over Wrap Bag, S – Sterile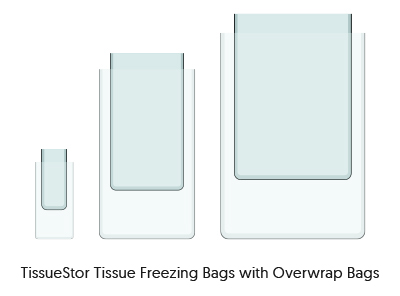 TissueStorTM Tissue Freezing Bags with CellStor® Overwrap Bags
Part Number
Description
TissueStor
Width x Length
(mm)
Overwrap
Width x Length
(mm)
Primary
Packing
Master
Packing
TE30X80SOWB
TissueStor Tissue Freezing Bag with Overwrap Bag
30 x 80 mm
40 x 90 mm
24 /case
120 /carton
TE30X90SOWB
TissueStor Tissue Freezing Bag with Overwrap Bag
30 x 90 mm
40 x 105 mm
24 /case
120 /carton
TE30X105SOWB
TissueStor Tissue Freezing Bag with Overwrap Bag
30 x 105 mm
60 x 160 mm
24 /case
120 /carton
TE40X105SOWB
TissueStor Tissue Freezing Bag with Overwrap Bag
40 x 105 mm
60 x 160 mm
24 /case
120 /carton
TE60X105SOWB
TissueStor Tissue Freezing Bag with Overwrap Bag
60 x 105 mm
100 x 180 mm
24 /case
120 /carton
TE60X120SOWB
TissueStor Tissue Freezing Bag with Overwrap Bag
60 x 120 mm
100 x 180 mm
24 /case
120 /carton
TE60X160SOWB
TissueStor Tissue Freezing Bag with Overwrap Bag
60 x 160 mm
100 x 180 mm
24 /case
120 /carton
TE90X105SOWB
TissueStor Tissue Freezing Bag with Overwrap Bag
90 x 105 mm
100 x 180 mm
24 /case
120 /carton
TE90X180SOWB
TissueStor Tissue Freezing Bag with Overwrap Bag
90 x 180 mm
130 x 230 mm
24 /case
120 /carton
TE100X150SOWB
TissueStor Tissue Freezing Bag with Overwrap Bag
100 x 150 mm
130 x 230 mm
24 /case
120 /carton
TE100X180SOWB
TissueStor Tissue Freezing Bag with Overwrap Bag
100 x 180 mm
130 x 230 mm
24 /case
120 /carton
TE110x90SOWB
TissueStor Tissue Freezing Bag with Overwrap Bag
110 x 90 mm
140 X 200 mm
24 /case
120 /carton
TE120x160SOWB
TissueStor Tissue Freezing Bag with Overwrap Bag
120 x 160 mm
150 X 280 mm
24 /case
120 /carton
TE130X200SOWB
TissueStor Tissue Freezing Bag with Overwrap Bag
130 x 200 mm
140 x 300 mm
24 /case
120 /carton
TE130X250SOWB
TissueStor Tissue Freezing Bag with Overwrap Bag
130 x 250 mm
160 x 380 mm
24 /case
120 /carton
TE135X105SOWB
TissueStor Tissue Freezing Bag with Overwrap Bag
135 x 105 mm
140 x 200 mm
24 /case
120 /carton
TE135X200SOWB
TissueStor Tissue Freezing Bag with Overwrap Bag
135 x 200 mm
140 x 300 mm
24 /case
120 /carton
TE135X300SOWB
TissueStor Tissue Freezing Bag with Overwrap Bag
135 x 300 mm
200 x 380 mm
24 /case
120 /carton
TE140X200SOWB
TissueStor Tissue Freezing Bag with Overwrap Bag
140 x 200 mm
200 x 380 mm
24 /case
120 /carton
TE140X300SOWB
TissueStor Tissue Freezing Bag with Overwrap Bag
140 x 300 mm
200 x 380 mm
24 /case
120 /carton
TE150X275SOWB
TissueStor Tissue Freezing Bag with Overwrap Bag
150 x 275 mm
180 x 420 mm
24 /case
120 /carton
TE180X320SOWB
TissueStor Tissue Freezing Bag with Overwrap Bag
180 x 320 mm
220 x 450 mm
24 /case
120 /carton
TE200X150SOWB
TissueStor Tissue Freezing Bag with Overwrap Bag
200 x 150 mm
230 x 180 mm
24 /case
120 /carton
TE200X380SOWB
TissueStor Tissue Freezing Bag with Overwrap Bag
200 x 380 mm
250 x 420 mm
24 /case
120 /carton
TE210X310SOWB
TissueStor Tissue Freezing Bag with Overwrap Bag
210 x 310 mm
250 x 420 mm
24 /case
120 /carton
TE220X180SOWB
TissueStor Tissue Freezing Bag with Overwrap Bag
220 x 180 mm
250 x 300 mm
24 /case
120 /carton
TE250X420SOWB
TissueStor Tissue Freezing Bag with Overwrap Bag
250 x 420 mm
300 x 500 mm
24 /case
120 /carton
TE300X150SOWB
TissueStor Tissue Freezing Bag with Overwrap Bag
300 x 150 mm
330 x 180 mm
24 /case
120 /carton
TE300X500SOWB
TissueStor Tissue Freezing Bag with Overwrap Bag
300 x 500 mm
330 x 550 mm
24 /case
120 /carton
TE750X150SOWB
TissueStor Tissue Freezing Bag with Overwrap Bag
750 x 150 mm
780 x 180 mm
24 /case
120 /carton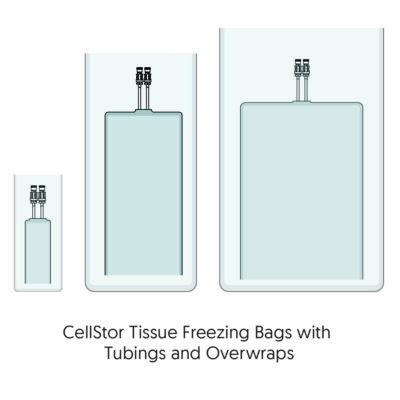 TissueStorTM Tissue Freezing Bags with Tubing and CellStor® Overwrap Bag
Part Number
Description
TissueStor
Width x Length
(mm)
Overwrap
Width x Length
(mm)
Primary
Packing
Master
Packing
TE30X80STOWB
TissueStor Tissue Freezing Bag with Tubing & Overwrap
30 x 80 mm
40 x 90 mm
24 /case
120 /carton
TE30X90STOWB
TissueStor Tissue Freezing Bag with Tubing & Overwrap
30 x 90 mm
40 x 105 mm
24 /case
120 /carton
TE30X105STOWB
TissueStor Tissue Freezing Bag with Tubing & Overwrap
30 x 105 mm
60 x 160 mm
24 /case
120 /carton
TE40X105STOWB
TissueStor Tissue Freezing Bag with Tubing & Overwrap
40 x 105 mm
60 x 160 mm
24 /case
120 /carton
TE60X105STOWB
TissueStor Tissue Freezing Bag with Tubing & Overwrap
60 x 105 mm
100 x 180 mm
24 /case
120 /carton
TE60X120STOWB
TissueStor Tissue Freezing Bag with Tubing & Overwrap
60 x 120 mm
100 x 180 mm
24 /case
120 /carton
TE60X160STOWB
TissueStor Tissue Freezing Bag with Tubing & Overwrap
60 x 160 mm
100 x 180 mm
24 /case
120 /carton
TE90X105STOWB
TissueStor Tissue Freezing Bag with Tubing & Overwrap
90 x 105 mm
100 x 180 mm
24 /case
120 /carton
TE90X180STOWB
TissueStor Tissue Freezing Bag with Tubing & Overwrap
90 x 180 mm
130 x 230 mm
24 /case
120 /carton
TE100X150STOWB
TissueStor Tissue Freezing Bag with Tubing & Overwrap
100 x 150 mm
130 x 230 mm
24 /case
120 /carton
TE100X180STOWB
TissueStor Tissue Freezing Bag with Tubing & Overwrap
100 x 180 mm
130 x 230 mm
24 /case
120 /carton
TE110x90STOWB
TissueStor Tissue Freezing Bag with Tubing & Overwrap
110 x 90 mm
140 X 200 mm
24 /case
120 /carton
TE120x160STOWB
TissueStor Tissue Freezing Bag with Tubing & Overwrap
120 x 160 mm
150 X 280 mm
24 /case
120 /carton
TE130X200STOWB
TissueStor Tissue Freezing Bag with Tubing & Overwrap
130 x 200 mm
140 x 300 mm
24 /case
120 /carton
TE130X250STOWB
TissueStor Tissue Freezing Bag with Tubing & Overwrap
130 x 250 mm
160 x 380 mm
24 /case
120 /carton
TE135X105STOWB
TissueStor Tissue Freezing Bag with Tubing & Overwrap
135 x 105 mm
140 x 200 mm
24 /case
120 /carton
TE135X200STOWB
TissueStor Tissue Freezing Bag with Tubing & Overwrap
135 x 200 mm
140 x 300 mm
24 /case
120 /carton
TE135X300STOWB
TissueStor Tissue Freezing Bag with Tubing & Overwrap
135 x 300 mm
200 x 380 mm
24 /case
120 /carton
TE140X200STOWB
TissueStor Tissue Freezing Bag with Tubing & Overwrap
140 x 200 mm
200 x 380 mm
24 /case
120 /carton
TE140X300STOWB
TissueStor Tissue Freezing Bag with Tubing & Overwrap
140 x 300 mm
200 x 380 mm
24 /case
120 /carton
TE150X275STOWB
TissueStor Tissue Freezing Bag with Tubing & Overwrap
150 x 275 mm
180 x 420 mm
24 /case
120 /carton
TE180X320STOWB
TissueStor Tissue Freezing Bag with Tubing & Overwrap
180 x 320 mm
220 x 450 mm
24 /case
120 /carton
TE200X150STOWB
TissueStor Tissue Freezing Bag with Tubing & Overwrap
200 x 150 mm
230 x 180 mm
24 /case
120 /carton
TE200X380STOWB
TissueStor Tissue Freezing Bag with Tubing & Overwrap
200 x 380 mm
250 x 420 mm
24 /case
120 /carton
TE210X310STOWB
TissueStor Tissue Freezing Bag with Tubing & Overwrap
210 x 310 mm
250 x 420 mm
24 /case
120 /carton
TE220X180STOWB
TissueStor Tissue Freezing Bag with Tubing & Overwrap
220 x 180 mm
250 x 300 mm
24 /case
120 /carton
TE250X420STOWB
TissueStor Tissue Freezing Bag with Tubing & Overwrap
250 x 420 mm
300 x 500 mm
24 /case
120 /carton
TE300X150STOWB
TissueStor Tissue Freezing Bag with Tubing & Overwrap
300 x 150 mm
330 x 180 mm
24 /case
120 /carton
TE300X500STOWB
TissueStor Tissue Freezing Bag with Tubing & Overwrap
300 x 500 mm
330 x 550 mm
24 /case
120 /carton
TE750X150STOWB
TissueStor Tissue Freezing Bag with Tubing & Overwrap
750 x 150 mm
780 x 180 mm
24 /case
120 /carton
Packaging:
Each product is packed Individually in Tyvek Pouch.
Primary Box Dimension: 220 x 190 x 300 mm (8.66 x 7.48 x 11.81 in.)
Master Carton Dimension: 590 x 430 x 330 mm (23.23 x 16.93 x 12.99 in.)