CellStor® FT Freeze-Thaw Bags
CellStor® FT Freeze-Thaw Bags for Storage, Stability and Transport Solution
CellBios offers Freeze-Thaw Bags that protects high-value bio-pharmaceutical in-process and end products. Made of high-grade, gamma-stable ethylene vinyl acetate, this new single-layer technology has no binders, agents or adhesives. Freeze-Thaw bags are stable in frozen applications (Down to -80°C). Freeze-Thaw bags are supplied with necessary validation documents to support your Quality & Regulatory requirements.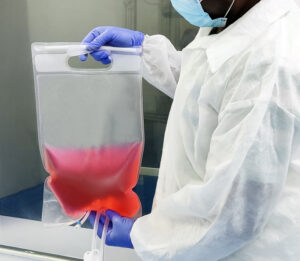 Applications
Freeze-Thaw Studies
Product Storage & Shipment
Formulation & Fill Finish
In-process Sampling and Archiving
Cell Banking
Other Downstream Studies
Benefits
Wide temperature Range (from +40ºC to -80ºC)
Multiple Freeze-Thaw cycles
No delamination
Low Level Leechable & Extractables
Film retains flexibility while in a frozen state
Advantages
CellStor FT Freeze-Thaw Bags are designed for ultra low temperature storage and transport solution for biopharmaceutical industry.
CellStor FT Freeze-Thaw bags provided with multiple port and connector configuration. Bags can be provided with canisters to hold the bags.
CellStor FT Freeze-Thaw bags can be used between +40°C to as low as -80°C applications.
Specification
| S.No. | Description | Qty. |
| --- | --- | --- |
| 1 | 10L Freeze Thaw Bag | 1 |
| 2 | 10 cm EVA Tubing - ID-12.7 mm | 1 |
| 3 | 10 cm EVA Tubing - ID 6.4 mm | 2 |
| 4 | 5 cm EVA Tubing - ID 3.2 mm | 1 |
| 5 | MPC Coupling Body | 1 |
| 6 | MPC Coupling Insert | 1 |
| 7 | Sealing Plug | 1 |
| 8 | Sealing Cap | 1 |
| 9 | Female Luer Lock to Barb Connector | 1 |
| 10 | Needle Free Site | 1 |
| 11 | Male Luer Cap | 1 |
| 12 | Male Luer Lock to Barb Connector | 1 |
| 13 | Needle Free Site Cap | 1 |
| 14 | Pinch Clamp | 3 |
| 15 | Pinch Clamp | 1 |
| 16 | Bioprocess Bag Rod | 1 |
Range of Freeze-Thaw Bags
Ordering Information
| Product Code | Nominal Volume | Freeze Volume at -80°C | Wetted Surface Area (cm²) | Dimensions (W x L, in mm) | Quantity /case |
| --- | --- | --- | --- | --- | --- |
| CSFTB-B-01 | 2 mL | 2 mL | 9.6 | 30 x 26 | 25 |
| CSFTB-C-01 | 3 mL | 3 mL | 12 | 37 x 26 | 25 |
| CSFTB-D-01 | 5 mL | 5 mL | 23.4 | 67 x 26 | 25 |
| CSFTB-E-01 | 7 mL | 7 mL | 31.7 | 59 x 38 | 25 |
| CSFTB-F-01 | 10 mL | 10 mL | 44.46 | 81 x 38 | 25 |
| CSFTB-G-01 | 20 mL | 20 mL | 88.65 | 91 x 64 | 25 |
| CSFTB-H-01 | 25 mL | 25 mL | 109 | 111 x 64 | 25 |
| CSFTB-I-01 | 30 mL | 30 mL | 130.5 | 132 x 64 | 25 |
| CSFTB-I-02 | 30 mL | 30 mL | 130.5 | 120 x 90 | 25 |
| CSFTB-J-01 | 50 mL | 45 mL | 183 | 140 x 102 | 25 |
| CSFTB-K-01 | 100 mL | 90 mL | 285 | 195 x 104 | 25 |
| CSFTB-L-01 | 250 mL | 225mL | 391 | 225 x 120 | 25 |
| CSFTB-M-01 | 500 mL | 450 mL | 598 | 270 x 146 | 25 |
| CSFTB-N-01 | 1 L | 900 mL | 955 | 359 x 173 | 10 |
| CSFTB-O-01 | 2 L | 1.8 L | 1555 | 385 x 255 | 10 |
| CSFTB-P-01 | 3 L | 2.7 L | 1975 | 538.5 x 265 | 10 |
| CSFTB-Q-01 | 5 L | 4.5L | 2532 | 552.5 x 329 | 10 |
| CSFTB-R-01 | 10 L | 9.0 L | 4135 | 787.5 x 370 | 10 |
| CSFTB-S-01 | 20 L | 18 L | 5652 | 814 x 507 | 10 |
| CSFTB-T-01 | 25 L | 22.5 L | 6330 | 826 x 527 | 10 |
| CSFTB-U-01 | 50 L | 45 L | 6881 | 920 x 540 | 5 |
World's first smallest bag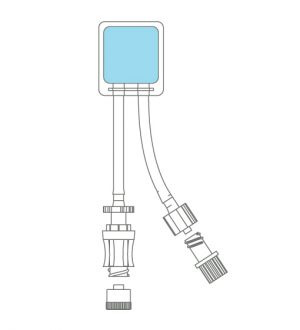 Tubes & Ports Selection
Bag Volumes
Tube Length (mm)
Custom Size (mm)
Port 1
Port 2
Port 3
Port 4
2 mL, 5 mL, 7 mL,
10 mL, 20 mL,
25 mL & 30 mL
50
--
3 x 4.1 x 50 mm
Female Luer,
Needle-Free Site,
Female Luer Cap
3 x 4.1 x 50 mm
Male Luer,
Male Luer cap
30 mL
50, 50
Upto 300
3.2 x 6.4 x 50 mm
Female Luer,
Needle-Free Site,
Female Luer Cap
3.2 x 6.4 x 50 mm
Male Luer,
Male Luer cap
50 mL, 100 mL
100, 100
Upto 300
3.2 x 6.4 x 100 mm
Female Luer,
Needle Free Site,
Female Luer Cap,
Pinch Clamp
3.2 x 6.4 x 100 mm
Male Luer,
Male Luer cap
Pinch Clamp
250 mL (2 Ports)
100, 100
Upto 300
3.2 x 6.4 x 100mm
Female Luer,
Needle-Free Site,
Female Luer Cap,
Pinch Clamp
3.2 x 6.4 x 100mm
Male Luer,
Male Luer cap
Pinch Clamp
250 mL (3 Ports)
50, 100, 100
Upto 300
3.2 x 6.4 x 50 mm
Female Luer,
Needle Free site,
Pinch Clamp
6.4 x 9.5 x 100 mm
MPC Coupling
Insert, Sealing Cap,
Pinch Clamp
6.4 x 9.5 x 100 mm
MPC Coupling Body,
Sealing Plug,
Pinch Clamp
500 mL, 1L, 2L,
3L, 5L
50, 100, 100
Upto 300
3.2 x 6.4 x 50 mm
Female Luer,
Needle Free site,
Pinch Clamp
6.4 x 9.5 x 100 mm
MPC Coupling
Insert, Sealing Cap,
Pinch Clamp
6.4 x 9.5 x 100 mm
MPC Coupling Body,
Sealing Plug,
Pinch Clamp
10L, 20L, 25L
50, 100, 100,
100
Upto 300
3.2 x 6.4 x 50 mm
Female Luer,
Needle Free site,
Pinch Clamp
6.4 x 9.5 x 100 mm
MPC Coupling
Insert, Sealing Cap,
Pinch Clamp
6.4 x 9.5 x 100 mm
MPC Coupling Insert,
Sealing Cap,
Pinch Clamp
10L, 20L, 25L
(Optional Port
Configuration)
50, 100, 100,
100
Upto 300
3.2 x 6.4 x 50 mm
Female Luer,
Needle Free site,
Pinch Clamp
6.4 x 9.5 x 100 mm
Male Luer,
Male Luer Cap,
Pinch Clamp
6.4 x 9.5 x 100 mm
MPC Coupling Insert,
Sealing Cap,
Pinch Clamp
9.5 x 12.7 x 100 mm
MPC Coupling Body,
Sealing Plug,
Pinch Clamp
50L
50, 100, 100
Upto 300
10 cm EVA Tubing (6.4 x 9.5 x 100 mm)
Disc Port: 1/4"
Needle Free site, Female luer cap

Disc Port - 3/8"
MPC Coupling, Body & Plug
9.5 x 12.7 x300 mm
Disc Port - 3/8"
MPC Coupling, Body & Plug
9.5 x 12.7 x300 mm
50L
(Optional port
Configuration)
50, 100, 100
Upto 300
10 cm EVA Tubing (6.4 x 9.5 x 100 mm)
Disc Port: 1/4"
Needle Free site, Female luer cap

Disc Port - 3/8"
MPC Coupling, Body & Plug
9.5 x 12.7 x300 mm
Disc Port - 3/8"
MPC Coupling, Body & Plug
9.5 x 12.7 x300 mm
9.5 x 12.7 x 100 mm
MPC Coupling Body,
Sealing Plug,
Pinch Clamp