Tank Liners
CellBios offers CellLiner® range of Tank Liners for media and buffer mixing applications.
CellBios offers smallest tank liners available in the market. CellLiner is offered as small as 5L until 560L with various ranges. Thus, CellLiners can be used in multi department ranging from R&D, PD, and Production sites.
The film used in CellLiner is 3-layer and LDPE as fluid contact layer. Same contact layer film chemistry for all media buffer prep and storage applications.
Applications
Media Preparation
Buffer Preparation
Reagent Hydration
Process Solution Preparation
Transient Storage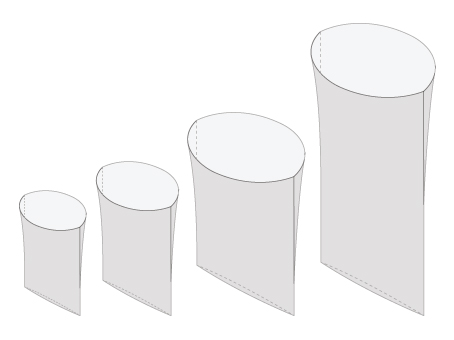 Range of Cell-Liners from 5L to 560L
Features
Starting with 5L upto 560L range.
Manufactured according to ISO GMP standards.
Three Layer film, product contact layer is LDPE.
CellBios also provides outer containers to hold tank liners according to customer needs.
Ready to use gamma sterilized
Non-animal origin
Provided with complete regulatory certification
Advantages
Smallest available size is 5 L for small scale mixing applications like powder feed preparation.
Eliminates multi-film qualification in same project.
Fits for various outer container configurations
Suits for customized applications
Minimizes bio-burden due to construction under sterile cGMP conditions
Eliminates post-use cleaning steps required with reusable containers. Helping to reduce cross- contamination risks and reduce cycle times.
| Part No. | Volume | Height x Width | Package |
| --- | --- | --- | --- |
| BPTL5L | 5L | 348 mm x 280 mm | 10 /pack |
| BPTL10L | 10 L | 418 mm x 341 mm | 10 /pack |
| BPTL20L | 20 L | 598 mm x 476 mm | 5 /pack |
| BPTL50L | 50 L | 888 mm x 596 mm | 5 /pack |
| BPTL100L | 100 L | 1020 mm x 840 mm | 5 /pack |
| BPTL200L | 200 L | 1206 mm x 945 mm | 5 /pack |
| BPTL300L | 300 L | 1540 mm x 1030 mm | 5 /pack |
| BPTL560L | 560 L | 1664 mm x 1345 mm | 5 /pack |
Quote Request
For any technical and product related queries, contact us