Single-Use 2D & 3D Biocontainers
CellStor® Single-use 2D & 3D biocontainers for more advanced applications, such as tangential flow filtration, diafiltration and in-process mixing.
CellBios offers a wide range of custom 2D & 3D Bags (bioprocess bags) for a variety of applications: preparation, storage and transport of bio-pharmaceutical solutions. The biocontainers are available in single layer and multi layer depending on the applications and range of volumes.
The Biopharmaceutical Industry has validated two primary polymers for the contact layer of Single-Use bioprocess bags which to CellBios utilize. The first material is EVA (Ethylene vinyl acetate) which is commonly used for 2D Bags, and Bags for Rocking Platforms. The second and most widely used material is ULDPE (Ultra low density polyethylene) which is used as the contact layer for large 2D bags and 3D Bags.
CellStor® biocontainers for Upstream and Downstream Bioprocess
Downstream processing is the part of a bioprocess where the cell mass from the upstream is processed to meet purity and quality requirements. The isolation and purification of a biotechnological product to a form suitable for its intended use, is termed DSP. Typically, this means recovery of a product from an aqueous solution. The products of biotechnology include whole cells, organic acids, amino acids, solvents, antibiotics, industrial enzymes, therapeutic proteins, vaccines etc. As these products vary greatly in size and nature, different separation principles are required for their recovery and purification.
CellStor single-use bags are used in bioprocessing into the following stages, including buffer preparation
Harvesting – Solid-liquid separation or clarification by centrifugation or filtration.
Concentration – Ultra filtration, diafiltration & precipitation.
Purification – Chromatography.
Formulation – Crystallisation & freeze drying.
Filling – the formulated product is packed and sent to the market for the consumers.
The CellStor single-use system is vertically integrated, closed, and disposable for continuous upstream and downstream bioproduction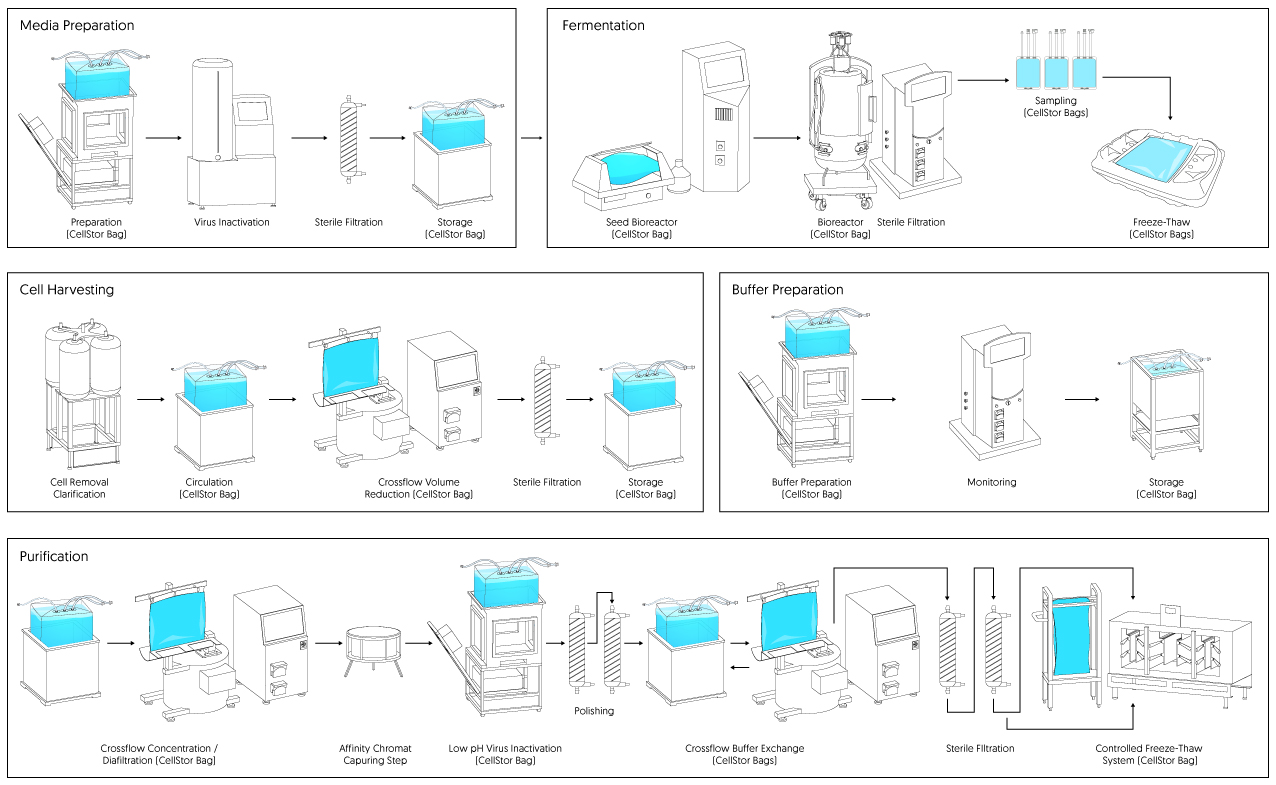 Features
Biocontainer uses the standard CellStor film
Powder addition port included on biocontainers
Inert low density polyethylene (LDPE) fluid contact layer
Compatible with a wide range of chemicals
No animal derived ingredients
Excellent gas barrier properties
Benefits
Consistent materials across full range of CellStor biocontainers
Allows for powder to be added into the biocontainer for recirculation mixing
High clarity and flexibility
Very low level of extractables and leachables
Appropriate materials for biopharmaceutical applications
Stability of product during storage
Advantages
CellStor bags available from 2 mL to 2000 L
Fits most Drums and Tanks
Proven tubes and components
Complete validation information
CellStor® Single-use 2D & 3D Biocontainers, Freeze-Thaw Bags, Tank Liners, and Bioreactors for a wide range of single-use bioprocessing applications.