CellStor Freezing Bags are suitable for cryopreserving biological samples down to -196°C in both the liquid and vapour phases.
CellStor Freezing Bags are used to freeze and cryopreserve cells (primary cells and cell lines), and cellular components, blood and blood components, tissues, and other biological products such as vaccines, proteins, exosomes, etc. for use in various treatment modalities such as stem cell therapy, CAR-T cell therapy, NK cell therapy, gene therapy, tissue engineering, and regenerative medicine.
CellStor Freezing Bags are made up of special grade Ethylene-vinyl acetate (EVA), also known as polyolefin. They retain their flexibility even at freezing temperatures and have high puncture resistance.
CellStor Freezing Bags are resistant to gas and liquid permeation, they facilitate cross contamination-free storage and culture.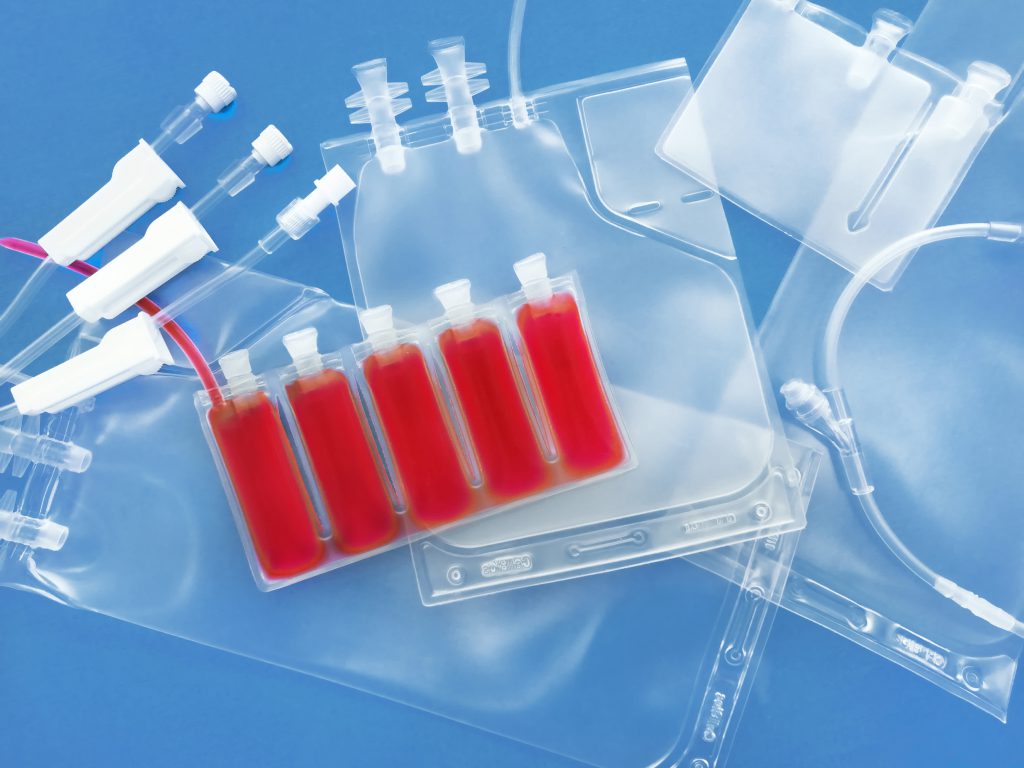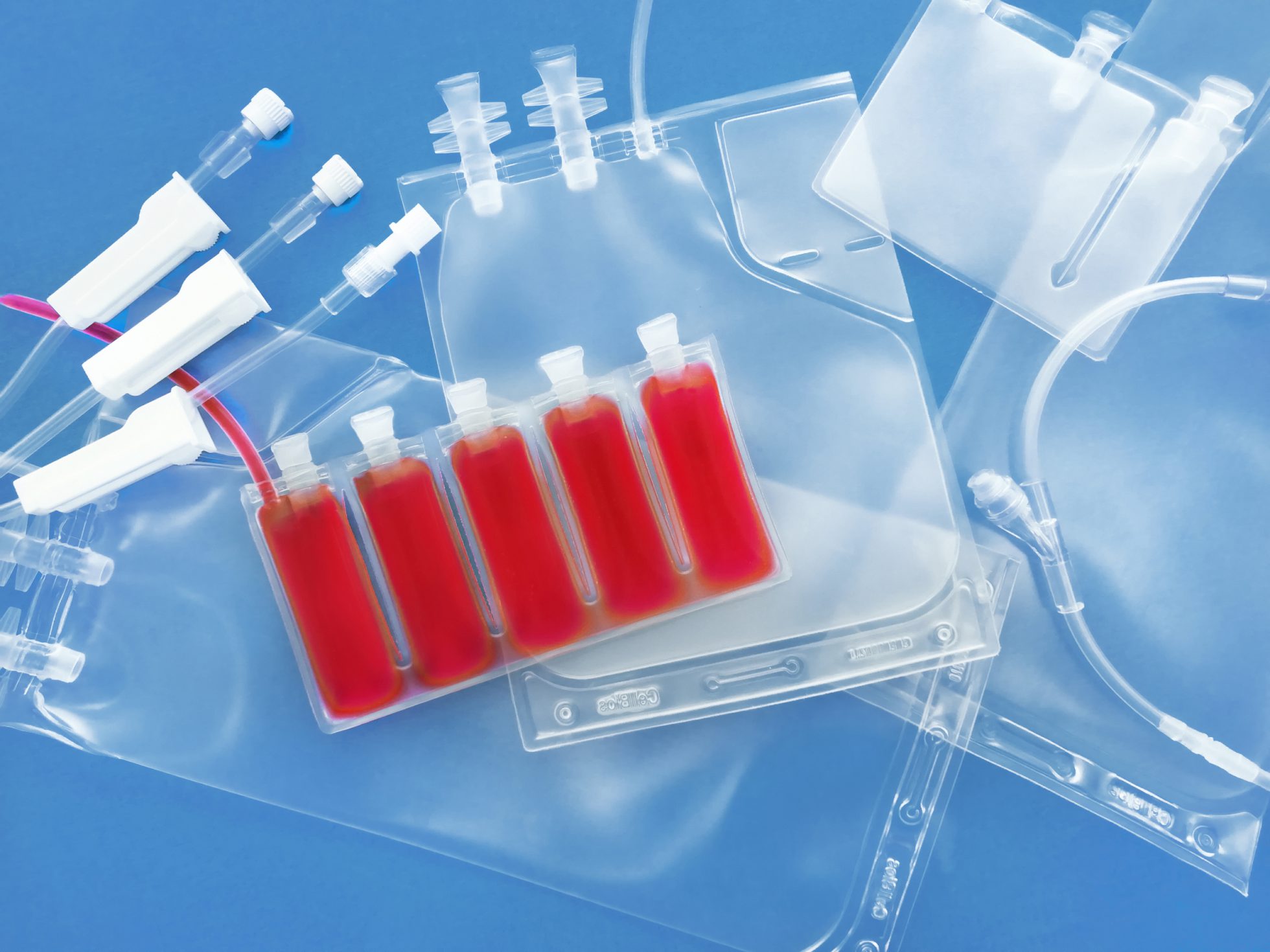 CellStor® Freezing Bag, 25 ml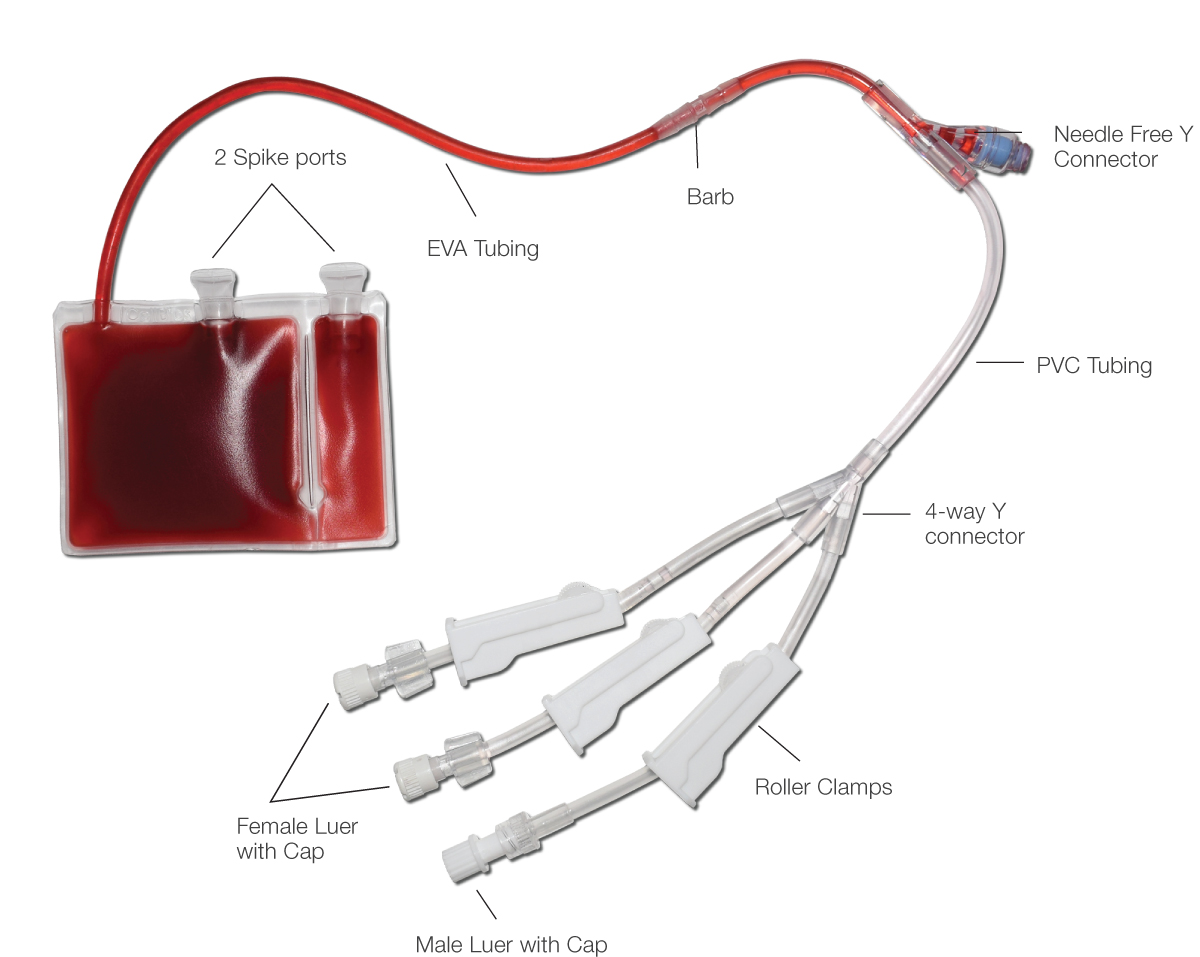 Technical Specification
Description
Freezing Bag
Bag Dimensions
Refer "Specifications"
Bag Volumes
1 mL to 3000 mL
Materials of
Construction
Freezing Bag, Donor Tubing: Ethylene Vinyl Acetate (EVA)
Extension Tubing: Polyvinyl Chloride (PVC)
Packaging
Individually packaged in a Tyvek pouch, 24 /box
Port Configuration
Straight Barb / Y-Barb (1), Needle Free Y (1), Male Luer with Cap (1), Female Luer with Cap (2), 4-Way PVC Y (1), Roller Clamps (3)
Shelf Life
3 Years
Sterilization
Gamma
Traceability
Lot number
Tubing
Donor Tubing (EVA) : ID 3 mm, OD 4.1 mm
Length: 50 to 300 mm

PVC Extension Tubing: ID 3 mm, OD 4.1 mm
Length: 50 mm to 120 mm
CellStor® Freezing Bags - Single Compartment
CellStor® Freezing Bags (Single Compartment)
| Part No. | Description | Single Packing | Primary Packing | Master Packing |
| --- | --- | --- | --- | --- |
| CSEVA01-01 | CellStor Freezing Bag, 1 mL (Top & Bottom Tube/Port), S Assembly NF | 1 /pouch | 24 /box | 120 /carton |
| CSEVA02-01 | CellStor Freezing Bag, 2 mL (Top & Bottom Tube/Port), S Assembly NF | 1 /pouch | 24 /box | 120 /carton |
| CSEVA03-01 | CellStor Freezing Bag, 3 mL (Top & Bottom Tube/Port), S Assembly NF | 1 /pouch | 24 /box | 120 /carton |
| CSEVA05-01 | CellStor Freezing Bag, 5 mL, S Assembly NF | 1 /pouch | 24 /box | 120 /carton |
| CSEVA05-02 | CellStor Freezing Bag, 5 mL (Top & Bottom Tube/Port), S Assembly NF | 1 /pouch | 24 /box | 120 /carton |
| CSEVA06-01 | CellStor Freezing Bag, 6 mL (Top & Bottom Tube/Port), S Assembly NF | 1 /pouch | 24 /box | 120 /carton |
| CSEVA07-01 | CellStor Freezing Bag, 7 mL (Top & Bottom Tube/Port), S Assembly NF | 1 /pouch | 24 /box | 120 /carton |
| CSEVA10-01 | CellStor Freezing Bag, 10 mL, S Assembly NF | 1 /pouch | 24 /box | 120 /carton |
| CSEVA10-02 | CellStor Freezing Bag, 10 mL (Top & Bottom Tube/Port), S Assembly NF | 1 /pouch | 24 /box | 120 /carton |
| CSEVA12-01 | CellStor Freezing Bag, 12 mL (Top & Bottom Tube/Port), S Assembly NF | 1 /pouch | 24 /box | 120 /carton |
| CSEVA15-01 | CellStor Freezing Bag, 15 mL (Top & Bottom Tube/Port), S Assembly NF | 1 /pouch | 24 /box | 120 /carton |
| CSEVA20-01 | CellStor Freezing Bag, 20 mL, S Assembly NF | 1 /pouch | 24 /box | 120 /carton |
| CSEVA20-02 | CellStor Freezing Bag, 20 mL (Top & Bottom Tube/Port), S Assembly NF | 1 /pouch | 24 /box | 120 /carton |
| CSEVA25-02 | CellStor Freezing Bag, 25 mL, S Assembly NF | 1 /pouch | 24 /box | 120 /carton |
| CSEVA25-03 | CellStor Freezing Bag, 25 ml (Top & Bottom Tube/Port), S Assembly NF | 1 /pouch | 24 /box | 120 /carton |
| CSEVA30-02 | CellStor Freezing Bag, 30 ml, S Assembly NF | 1 /pouch | 24 /box | 120 /carton |
| CSEVA30-03 | CellStor Freezing Bag, 30 mL (Top & Bottom Tube/Port), S Assembly NF | 1 /pouch | 24 /box | 120 /carton |
| CSEVA50-01 | CellStor Freezing Bag, 50 mL, S Assembly NF | 1 /pouch | 24 /box | 120 /carton |
| CSEVA50-02 | CellStor Freezing Bag, 50 mL (Top & Bottom Tube/Port), S Assembly NF | 1 /pouch | 24 /box | 120 /carton |
| CSEVA150-01 | CellStor Freezing Bag, 150 mL, S Assembly NF | 1 /pouch | 24 /box | 120 /carton |
| CSEVA250-01 | CellStor Freezing Bag, 250 mL, S Assembly NF | 1 /pouch | 24 /box | 120 /carton |
| CSEVA500-01 | CellStor Freezing Bag, 500 mL, S Assembly NF | 1 /pouch | 24 /box | 120 /carton |
| CSEVA750-01 | CellStor Freezing Bag, 750 mL, S Assembly NF | 1 /pouch | 24 /box | 120 /carton |
| CSEVA1000-01 | CellStor Freezing Bag, 1000 mL, S Assembly NF | 1 /pouch | 24 /box | 120 /carton |
| CSEVA2000-01 | CellStor Freezing Bag, 2000 mL, S Assembly NF | 1 /pouch | 24 /box | 120 /carton |
| CSEVA3000-01 | CellStor Freezing Bag, 3000 mL, S Assembly NF | 1 /pouch | 24 /box | 120 /carton |
CellStor® Freezing Bags (Single Compartment)
Part Number
Description
Width x Length (mm)
Nominal
Volume (ml)
Recommended
Freeze Volume
CSEAV01-01
1 mL (T/B)
21 x 31 mm
1 mL
1 mL
CSEVA02-01
2 mL (T/B)
26 x 36 mm
2 mL
2 mL
CSEVA03-01
3 mL (T/B)
26 x 44 mm
3 mL
3 mL
CSEVA05-01
5 mL
26 x 67 mm
5 mL
5 mL
CSEVA05-02
5 mL (T/B)
26 x 67 mm
5 mL
5 mL
CSEVA06-01
6 mL (T/B)
26 x 76 mm
6 mL
6 mL
CSEVA07-01
7 mL (T/B)
38 x 62 mm
7 mL
7 mL
CSEVA10-01
10 mL
38 x 67 mm
10 mL
10 mL
CSEVA10-02
10 mL (T/B)
38 x 79 mm
10 mL
10 mL
CSEVA12-01
12 mL (T/B)
48 x 76 mm
12 mL
12 mL
CSEVA15-01
15 mL (T/B)
44 x 99 mm
15 mL
15 mL
CSEVA20-01
20 mL
71 x 67 mm
20 mL
20 mL
CSEVA20-02
20 mL (T/B)
44 x 122 mm
20 mL
20 mL
CSEVA25-02
25 mL (SC)
88 x 67 mm
25 mL
10-25 mL
CSEVA25-03
25 mL (T/B)
54 x 123 mm
25 mL
10-25 mL
CSEVA30-02
30 mL (SC)
105 x 67 mm
30 mL
10-30 mL
CSEVA30-03
30 mL (T/B)
66 x 123 mm
30 mL
10-30 mL
CSEVA50-01
50 mL
76 x 194.5 mm
50 mL
10-30 mL
CSEVA50-02
50 mL (T/B)
66 x 144 mm
50 mL
10-30 mL
CSEVA150-01
150 mL
126 x 144 mm
150 mL
25-60 mL
CSEVA250-01
250 mL
126 x 155 mm
250 mL
30-80 mL
CSEVA500-01
500 mL
126 x 210 mm
500 mL
50-120 mL
CSEVA750-01
750 mL
126 x 241 mm
750 mL
80-190 mL
CSEVA1000-01
1000 mL
173 x 323 mm
1000 mL
100-320 mL
CSEVA2000-01
2000 mL
225 x 367 mm
2000 mL
200-540 mL
CSEVA3000-01
3000 mL
270 x 434 mm
3000 mL
500-850 mL
CellStor® Freezing Bags - Double Compartments
CellStor® Freezing Bags (Double Compartments)
| Part No. | Description | Single Packing | Primary Packing | Master Packing |
| --- | --- | --- | --- | --- |
| CSEVA2X5-01 | CellStor Freezing Bag, 2x5 mL, S Assembly NF | 1 /pouch | 24 /box | 120 /carton |
| CSEVA2X5-02 | CellStor Freezing Bag, 2x5 mL (Top & Bottom Tube/Port), S Assembly NF | 1 /pouch | 24 /box | 120 /carton |
| CSEVA2X10-01 | CellStor Freezing Bag, 2x10 mL, S Assembly NF | 1 /pouch | 24 /box | 120 /carton |
| CSEVA2X10-02 | CellStor Freezing Bag, 2x10 mL (Top & Bottom Tube/Port), S Assembly NF | 1 /pouch | 24 /box | 120 /carton |
| CSEVA2X12.5-01 | CellStor Freezing Bag, 25 mL (Double Compartment), S Assembly NF | 1 /pouch | 24 /box | 120 /carton |
| CSEVA25-01 | CellStor Freezing Bag, 25 mL (Double Compartment), S Assembly NF | 1 /pouch | 24 /box | 120 /carton |
| CSEVA30-01 | CellStor Freezing Bag, 30 mL (Double Compartment), S Assembly NF | 1 /pouch | 24 /box | 120 /carton |
CellStor® Freezing Bags (Double Compartments)
Part Number
Description
Width x Length (mm)
Nominal
Volume (ml)
Recommended
Freeze Volume
CSEVA2X5-01
2X5 mL
52 x 67 mm
10 mL
10 mL
CSEVA2X5-02
2X5 mL (T/B)
52 x 67 mm
10 mL
10 mL
CSEVA2X10-01
2X10 mL
76 x 67 mm
20 mL
20 mL
CSEVA2X10-02
2X10 mL (T/B)
76 x 79 mm
20 mL
20 mL
CSEVA2X12.5-01
2X12.5 mL (DC)
90X67 mm
25 mL
25 mL
CSEVA25-01
25 mL (DC)
90 x 67 mm
25 mL
10-25 mL
CSEVA30-01
30 mL (DC)
109 x 67 mm
30 mL
10-30 mL
CellStor® Freezing Bags - Multi Compartments
CellStor® Freezing Bags (Multi Compartments)
| Part No. | Description | Single Packing | Primary Packing | Master Packing |
| --- | --- | --- | --- | --- |
| CSEVA5X1-01 | CellStor Freezing Bag, 5x1 mL (Top & Bottom Tube/Port), S Assembly NF | 1 /pouch | 24 /box | 120 /carton |
| CSEVA5X2-01 | CellStor Freezing Bag, 5x2 mL (Top & Bottom Tube/Port), S Assembly NF | 1 /pouch | 24 /box | 120 /carton |
| CSEVA4X3-01 | CellStor Freezing Bag, 4x3 mL (Top & Bottom Tube/Port), S Assembly NF | 1 /pouch | 24 /box | 120 /carton |
| CSEVA5X3-01 | CellStor Freezing Bag, 5x3 mL (Top & Bottom Tube/Port), S Assembly NF | 1 /pouch | 24 /box | 120 /carton |
| CSEVA3X5-01 | CellStor Freezing Bag, 3x5 mL, S Assembly NF | 1 /pouch | 24 /box | 120 /carton |
| CSEVA3X5-02 | CellStor Freezing Bag, 3x5 mL (Top & Bottom Tube/Port), S Assembly NF | 1 /pouch | 24 /box | 120 /carton |
| CSEVA4X5-01 | CellStor Freezing Bag, 4x5 mL, S Assembly NF | 1 /pouch | 24 /box | 120 /carton |
| CSEVA4X5-02 | CellStor Freezing Bag, 4x5 mL (Top & Bottom Tube/Port), S Assembly NF | 1 /pouch | 24 /box | 120 /carton |
| CSEVA4X5-03 | CellStor Freezing Bag, 4x5 mL (Single Tube), S Assembly NF | 1/pouch | 24/box | 120 / Carton |
| CSEVA5X5-01 | CellStor Freezing Bag, 5x5 mL, S Assembly NF | 1 /pouch | 24 /box | 120 /carton |
| CSEVA5X5-02 | Cellstor Freezing Bag, 5x5 mL (Top & Bottom Tube/Port), S Assembly NF | 1 /pouch | 24 /box | 120 /carton |
| CSEVA5X5-03 | Cellstor Freezing Bag, 5x5 mL (Single Tube), S Assembly NF | 1 /pouch | 24 /box | 120 /carton |
| CSEVA4X6-01 | CellStor Freezing Bag, 4x6 mL (Top & Bottom Tube/Port), S Assembly NF | 1 /pouch | 24 /box | 120 /carton |
| CSEVA5X6-01 | CellStor Freezing Bag, 5x6 mL (Top & Bottom Tube/Port), S Assembly NF | 1 /pouch | 24 /box | 120 /carton |
| CSEVA3X10-01 | CellStor Freezing Bag, 3x10 mL, S Assembly NF | 1 /pouch | 24 /box | 120 /carton |
| CSEVA3X10-02 | CellStor Freezing Bag, 3x10 mL (Top & Bottom Tube/Port), S Assembly NF | 1 /pouch | 24 /box | 120 /carton |
| CSEVA4X10-01 | CellStor Freezing Bag, 4x10 mL, S Assembly NF | 1 /pouch | 24 /box | 120 /carton |
| CSEVA4X10-02 | CellStor Freezing Bag, 4x10 mL (Top & Bottom Tube/Port), S Assembly NF | 1 /pouch | 24 /box | 120 /carton |
CellStor® Freezing Bags (Multi Compartments)
Part Number
Description
Width x Length (mm)
Nominal
Volume (ml)
Recommended
Freeze Volume
CSEAV5X1-01
5X1 mL (T/B)
105 x 31 mm
5 mL
5 mL
CSEVA5X2-01
5X2 mL (T/B)
130 x 36 mm
10 mL
10 mL
CSEVA4X3-01
4 X 3 mL (T/B)
105 x 44 mm
12 mL
12 mL
CSEVA5X3-01
5 X 3 mL (T/B)
130 x 44 mm
15 mL
15 mL
CSEVA3X5-01
3X5 mL
78 x 67 mm
15 mL
15 mL
CSEVA3X5-02
3X5 mL (T/B)
78 x 67 mm
15 mL
15 mL
CSEVA4X5-01
4X5 mL
105 x 67 mm
20 mL
20 mL
CSEVA4X5-02
4X5 mL (T/B)
105 x 67 mm
20 mL
20 mL
CSEVA4X5-03
4X5 mL (ST)
105x67 mm
20 mL
20 mL
CSEVA5X5-01
5X5 mL
131 x 67 mm
25 mL
10-25 mL
CSEVA5X5-02
5X5 mL (T/B)
131 x 67 mm
25 mL
10-25 mL
CSEVA5X5-03
5X5 mL (ST)
131 x 67 mm
25 mL
10-25 mL
CSEVA4X6-01
4X6 mL (T/B)
105 x 76 mm
24 mL
10-24 mL
CSEVA5X6-01
5X6 mL (T/B)
130 x 76 mm
30 mL
10-30 mL
CSEVA3X10-01
3X10 mL
114 x 67 mm
30 mL
10-30 mL
CSEVA3X10-02
3X10 mL (T/B)
114 x 79 mm
30 mL
10-30 mL
CSEVA4X10-01
4X10 mL
152 x 67 mm
40 mL
10-40 mL
CSEVA4X10-02
4X10 mL (T/B)
152 x 79 mm
40 mL
10-40 mL