CellStor® Transfer Freezing Bag Set (TFB Set) for Cord Blood Processing and Freezing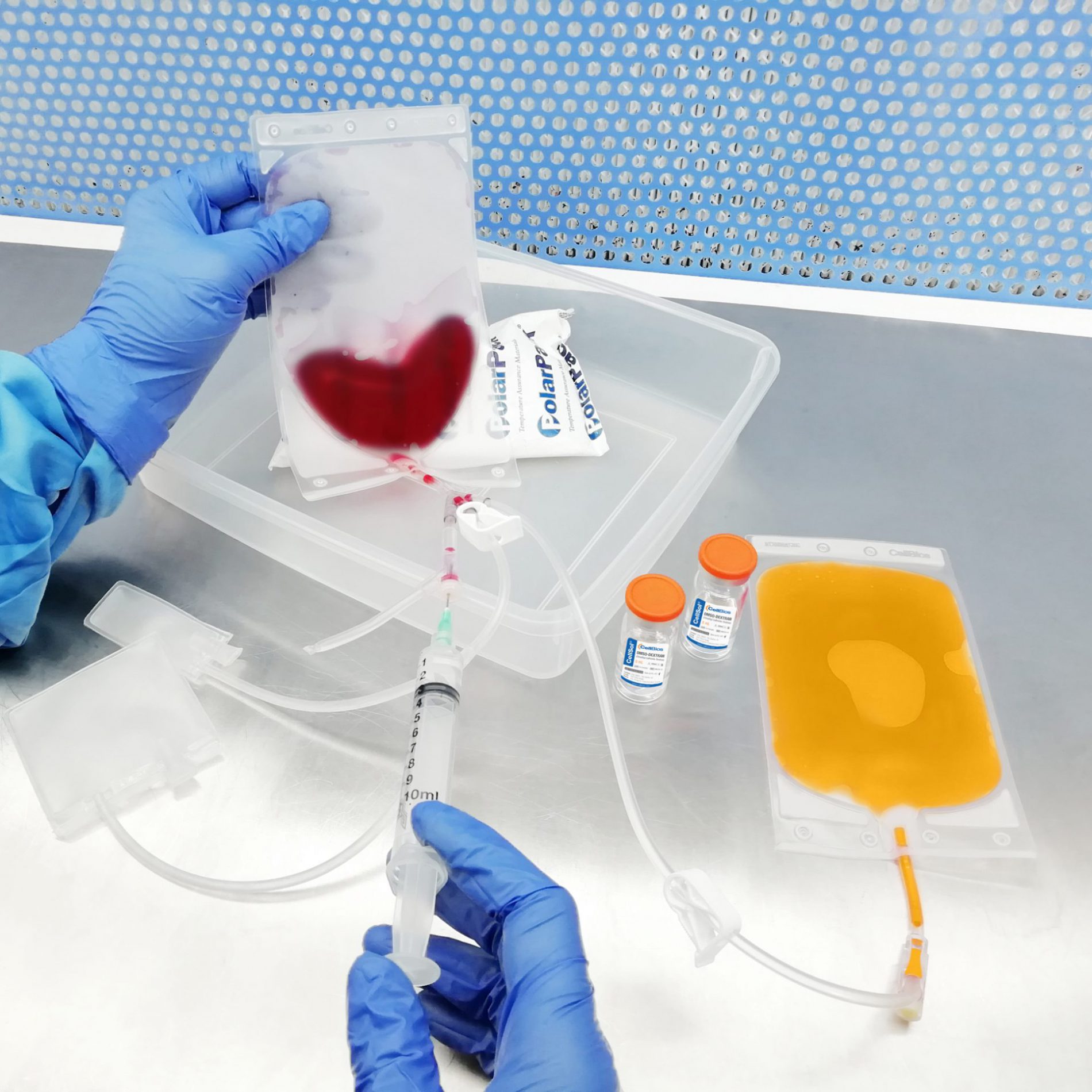 CellStor® Transfer Freezing Bag Set is designed for processing and freezing the hematopoietic stem cells from cord blood in liquid nitrogen or low temperature storage. Each sterile set includes two transfer bags and one freezing bag along with integral tubing's with port configuration.
CellBios® provides transfer freezing bag set for red blood cell depletion and Volume reduction to acquire concentrated cord blood stem cells to treat various diseases.
Closed cord blood collection methods have proven to be superior in reducing the risk of microbial contamination.
Efficient banking requires volume reduction of cord blood units without significant loss of progenitor cells, to decrease storage space and cost, and this may be achieved by using the separation techniques.
CellStor Transfer Freezing Bag Set with Freezing Bag from CellBios provides complete closed system with Gamma sterilization as per ISO 11737 for proper sterility & reduce the risk of microbial contamination.
Each Cellstor Transfer Freezing Bag set is packed individually in Tyvek or plastic Pouch with label as per ISO 3826-1:2019 requirements.
The Transfer Freezing Bag set is designed for optimal cord blood collection, processing, cryopreservation, thawing, and transfusion of stem cells.
Facilitate each step in the processing, freezing and transfusion for cord blood stem cells to ensure a safe, reliable, robust process
Advantages
Closed System Processing

Maximum Stem Cell Recover

Negligible RBC's Contamination

Compatible with Top and Bottom method of processing

Gamma Sterilized, Ready for use

Suited for low volume processing
Technical Specifications
Description
Transfer Freezing Set Bag Set
Fill Volume Range
Transfer Bag -1: Up to 250 mL
Transfer Bag -2: Up to 150 mL
Freezing Bag: Up to 50 mL
Port Configuration
Straight Barb / Y-Barb (1), Injection Y / Needle Free Y (1), Male Luer (1), Spike (1), Spike Cap (1), 3-Way / 4-Way PVC Y (1), Pinch Clamp (2/3) / Roller Clamp (1)
Materials of Construction
150 and 250 mL Transfer Bag, Tubing: Polyvinyl Chloride (PVC); Freezing Bag, Tubing: Ethyl Vinyl Acetate (EVA)
Bag Size(s)
250 mL Transfer Bag: 190 x112 mm (7.48x4.4 in.)
150 mL Transfer Bag: 161x67 mm (6.33x3.54 in.)
25 ml Freezing Bag (Dual Compartment) : 90 mm height x 67 mm width
Other Freezing Bag Ranges : Refer "Specification - Freezing Bags"
Sterilization
Gamma irradiation
Packaging
Individually packaged in a Tyvek pouch; 20 /box
Shelf Life
3 Years
Traceability
Lot number
Features
Process Advantages
CellStor® TFB set ensures complete closed system processing with microbial free environment to isolate Hematopoietic stem cells, Total
Nucleated Cell Count (TNCC), Total Mono-nucleated Cell Count (TMCC) by volume reduction method.
Processing with our unique design bags provides almost 80% of hematopoietic stem cell (CD34+) recovery irrespective of the sample nature.
Maximum of 96% RBC Reduction is achieved to prevent post transplantation complications with free hemoglobin levels.
Maximum EVA donor tubing length for sample testing which includes QC internal, external, CFU and HLA testing's.
Unique design of 250 ml transfer bag flexible for both top and bottom method. Extracts maximum stem cells from top method and drain out maximum RBC from the bottom method to retain maximum stem cells.
CellStor TFB set is effective in bottom drain process for low volume and clot samples where press plate mechanism is not feasible.
Smooth embossing structure of our films inside the transfer bag ensures free flow of the stem cell product into the freezing bag and prevents cell loss / blood entrapment.
Single, Dual and Multi- compartments provided for future cell expansion and for multiple transplant options.
Different port options for sampling which includes needle free site and Luer connections for sample aspiration to prevent needle stick injury.
Improved design to ensure a homogenous control rate-freezing rate for maximum cell viability.
CellStor TFB sets comes with various volume ranges of freezing bags.
Volume
Description
Width x Length
(mm)
Nominal
Volume (ml)
Recommended
Freeze Volume
25 mL (DC)
CellStor Transfer Freezing Bag Set with 25 mL (Dual Compartment) Freezing Bag
67 x 90 mm
25 mL
10 – 25 mL
25 mL (SC)
CellStor Transfer Freezing Bag Set with 25 mL (Single Compartment) Freezing Bag
67 x 88 mm
25 mL
10 – 25 mL
25 mL (T/B)
CellStor Transfer Freezing Bag Set with 25 mL (Top & Bottom Tube /Port) Freezing Bag
123 x 54 mm
25 mL
10 – 25 mL
25 mL (20+5)
CellSor Transfer Freeezing Bag Set with 20+5 mL Freezing Bag
67 x 71, 67 x 26 mm
20 + 5 mL
12 – 25 mL
5x5 mL
CellSor Transfer Freeezing Bag Set with 5X5 mL Freezing Bag
67 x 131 mm
5 x 5 mL
10 – 25 mL
5x5 mL (T/B)
CellSor Transfer Freeezing Bag Set with 5X5 mL (Top & Bottom Tube/Port) Freezing Bag
67 x 130 mm
5 x 5 mL
10 – 25 mL
5x5 mL (ST)
CellSor Transfer Freeezing Bag Set with 5X5 mL (Single Tube) Freezing Bag
67 x 131 mm
5 x 5 mL
10 – 25 mL
4x6 mL (T/B)
CellSor Transfer Freeezing Bag Set with 4X6 mL (Top & Bottom Tube/Port) Freezing Bag
76 x 105 mm
4 x 6 mL
10 – 24 mL
4x5 mL
CellSor Transfer Freeezing Bag Set with 4X5 mL Freezing Bag
67 x 105 mm
4 x 5 mL
10 – 20 mL
4x5 mL (T/B)
CellSor Transfer Freeezing Bag Set with 4X5 mL (Top & Bottom Tube/Port) Freezing Bag
67 x 104 mm
4 x 5 mL
10 – 20 mL
2x10 mL
CellSor Transfer Freeezing Bag Set with 2X10 mL Freezing Bag
67 x 76 mm
2 x 10 mL
10 – 20 mL
2x10 mL (T/B)
CellSor Transfer Freeezing Bag Set with 2X10 mL (Top & Bottom Tube/Port) Freezing Bag
79 x 76 mm
2 x 10 mL
10 – 20 mL
20+10 mL
CellSor Transfer Freeezing Bag Set with 20+10 mL Freezing Bag
67 x 71 , 67 x 38 mm
20 +10 mL
18 – 30 mL
30 mL (DC)
CellSor Transfer Freezing Bag Set with 30 mL (Dual Compartment) Freezing Bag
67 x 109 mm
30 mL
15 – 30 mL
30 mL (SC)
CellSor Transfer Freezing Bag Set with 30 mL (Single Compartment) Freezing Bag
67 x 105 mm
30 mL
15 – 30 mL
30 mL (T/B)
CellSor Transfer Freezing Bag Set with 30 mL (Top & Bottom Tube /Port) Freezing Bag
123 x 66 mm
30 mL
15 – 30 mL
3x10 mL
CellSor Transfer Freeezing Bag Set with 3X10 mL Freezing Bag
67 x 117 mm
3 x 10 mL
15 – 30 mL
3x10 mL (T/B)
CellSor Transfer Freeezing Bag Set with 3X10 mL (Top & Bottom Tube/Port) Freezing Bag
79 x 114 mm
3 x 10 mL
15 – 30 mL
5x6 mL (T/B)
CellSor Transfer Freeezing Bag Set with 5X6 mL (Top & Bottom Tube/Port) Freezing Bag
76 x 130 mm
5 x 6 mL
15 – 30 mL
4x10 mL
CellSor Transfer Freeezing Bag Set with 4X10 mL Freezing Bag
67 x 152 mm
4 x 10 mL
20 – 40 mL
4x10 mL (T/B)
CellSor Transfer Freeezing Bag Set with 4X10 mL (Top & Bottom Tube/Port) Freezing Bag
79 x 152 mm
4 x 10 mL
20 – 40 mL
50 mL
CellSor Transfer Freeezing Bag Set with 50 mL Freezing Bag
194.5 x 76 mm
50 mL
10 – 33 mL
50 mL (T/B)
CellSor Transfer Freeezing Bag Set with 50 mL (Top & Bottom Tube/Port) Freezing Bag
144 x 66 mm
50 mL
10 – 33 mL
Part No.
Description
Single Packing
(Tyvek Pouch)
Primary Packing
Master Carton
TF-01-25
CellStor Transfer Freezing Bag Set with 25 mL (Dual Compartment) Freezing Bag
1 /pouch
20 /box
100 /carton
TF-02-25
CellStor Transfer Freezing Bag Set with 25 mL (Single Compartment) Freezing Bag
1 /pouch
20 /box
100 /carton
TF-03-25
CellStor Transfer Freezing Bag Set with 25 mL (Top & Bottom Tube /Port) Freezing Bag
1 /pouch
20 /box
100 /carton
TF-01-20+5
CellStor Transfer Freezing Bag Set with 20+5 mL Freezing Bag
1 /pouch
20 /box
100 /carton
TF-01-5x5
CellStor Transfer Freezing Bag Set with 5x5 mL Freezing Bag
1 /pouch
20 /box
100 /carton
TF-02-5x5
CellStor Transfer Freezing Bag Set with 5x5 mL (Top & Bottom Tube/Port) Freezing Bag
1 /pouch
20 /box
100 /carton
TF-03-5x5
CellStor Transfer Freezing Bag Set with 5x5 mL (Single Tube) Freezing Bag
1 /pouch
20 /box
100 /carton
TF-01-4x6
CellStor Transfer Freezing Bag Set with 4x6 mL (Top & Bottom Tube/Port) Freezing Bag
1 /pouch
20 /box
100 /carton
TF-01-4x5
CellStor Transfer Freezing Bag Set with 4x5 mL Freezing Bag
1 /pouch
20 /box
100 /carton
TF-02-4x5
CellStor Transfer Freezing Bag Set with 4x5 mL (Top & Bottom Tube/Port) Freezing Bag
1 /pouch
20 /box
100 /carton
TF-01-2x10
CellStor Transfer Freezing Bag Set with 2x10 mL Freezing Bag
1 /pouch
20 /box
100 /carton
TF-02-2x10
CellStor Transfer Freezing Bag Set with 2x10 mL (Top & Bottom Tube/Port) Freezing Bag
1 /pouch
20 /box
100 /carton
TF-01-20+10
CellStor Transfer Freezing Bag Set with 20+10 mL Freezing Bag
1 /pouch
20 /box
100 /carton
TF-01-30
CellStor Transfer Freezing Bag Set with 30 mL (Dual Compartment) Freezing Bag
1 /pouch
20 /box
100 /carton
TF-02-30
CellStor Transfer Freezing Bag Set with 30 mL (Single Compartment) Freezing Bag
1 /pouch
20 /box
100 /carton
TF-03-30
CellStor Transfer Freezing Bag Set with 30 mL (Top & Bottom Tube /Port) Freezing Bag
1 /pouch
20 /box
100 /carton
TF-01-3x10
CellStor Transfer Freezing Bag Set with 3x10 mL Freezing Bag
1 /pouch
20 /box
100 /carton
TF-02-3x10
CellStor Transfer Freezing Bag Set with 3x10 mL (Top & Bottom Tube/Port) Freezing Bag
1 /pouch
20 /box
100 /carton
TF-01-5x6
CellStor Transfer Freezing Bag Set with 5x6 mL (Top & Bottom Tube/Port) Freezing Bag
1 /pouch
20 /box
100 /carton
TF-01-4x10
CellStor Transfer Freezing Bag Set with 4x10 mL Freezing Bag
1 /pouch
20 /box
100 /carton
TF-02-4x10
CellStor Transfer Freezing Bag Set with 4x10 mL (Top & Bottom Tube/Port) Freezing Bag
1 /pouch
20 /box
100 /carton
TF-01-2x12.5
CellStor Transfer Freezing Bag Set with 2x12.5 mL
(Top & Bottom Tube/Port) Freezing Bag
1 /pouch
20 /box
100 /carton
TF-01-50
CellStor Transfer Freezing Bag Set with 50 mL Freezing Bag
1 /pouch
20 /box
100 /carton
TF-02-50
CellStor Transfer Freezing Bag Set with 50 mL (Top & Bottom Tube/Port) Freezing Bag
1 /pouch
20 /box
100 /carton