2D Biocontainers
Single-Use 2D Biocontainers for Storage, Transport, and Fill & Finish Bioprocessing Applications
Ranging from 3 mL to 200 L
CellBios® offers individually leak-tested 2D Bags for consistent performance and the best assurance of supply for Bio-Pharmaceutical / Bioprocess applications. Excellent durability and toughness due to high weld strength provide sturdy and reliable performance. Flexible and puncture resistant even at very low temperatures.
2D Bioprocessing single-use containers are designed for the biotech, bioprocess, and biopharmaceutical sector for efficient fluid management of media, buffer, harvest, downstream intermediates, and drug substance/products.
The advantages of single-use biocontainers are more affordable, reduced footprint, flexibility, reduced risk of contamination, production efficiency, easy changeover, improved capacity, improved assurance of Quality, and time management.
CellBios adapts cutting-edge design strategies for making better and more efficient single-use biocontainers. Gamma Irradiated.
Single-Use biocontainers are built from multiple components assembled together to provide a better design and to meet the functional requirements.
Applications
Buffer preparation, storage and transport
Media preparation, storage and transport
Cell culture / harvesting
Mixing
Filtration
Separation and Purification
Drug / product intermediates storage
Collection of fractions
Chromatography process
Drug/ product intermediates storage and transport
Product storage prior to filling
Product transport
Fill and Finish
Filling bag manifold
Waste collection
Features
2D Bioprocess bags are available from 3 mL to 200 L
Impulse heat–sealing technology is used for consistent bag sealing and integral port sealing of the bag
Excellent durability and toughness
Exhibits superior clarity and transparency for better visibility
Excellent gas barrier properties
Reduce the risk of cross-contamination
Each biocontainer is leak tested
Suitable for long-term storage of materials at a wide range of temperatures (+60 °C to -80 °C)
Benefits
Consistent film and materials of construction used across the entire range of 2D and 3D biocontainers
Inert Ultra low-density polyethylene fluid contact layer
High clarity and flexibility
Very low level of extractables and leachables
Compatible with a wide range of chemicals and pH
Excellent gas barrier film material
Animal ingredients-free material
Transparent biocontainers for easy visual inspections of the solutions/product
Better design to ensure faster installation
Efficient design for ease of use, better drainage of the fluid, stability of the product during storage
Final biocontainers assembly is done at the separate ISO 7 clean room environment
Process capability enables the customization of the widest port and tubing choice for inlet and outlet connections
Custom design bioconatiners are available
Connectors, Tubes and Ports
The materials of construction of the 2D biocontainers meet:
USP 661 Physicochemical tests for plastics
European Pharmacopoeia (Section 3.1.5)
Japanese Pharmacopoeia (Section 61 Part 1)
European directive 85/572/EEC for food contact plastic materials
Features
| S.No. | Description |
| --- | --- |
| 1 | 2D Biocontainer |
| 2 | TPE (Tube) - 3.2x6.4 mm (1/8x1/4 in.) |
| 3 | TPE (Tube) - 6.4x9.5 mm (1/4x5/8 in.) |
| 4 | Female Luer |
| 5 | MPC Coupling Insert |
| 6 | MPC Coupling Plug |
| 7 | MPC Coupling Cap |
| 8 | MPC Coupling Body |
| 9 | TPE (Tube) - 6.4x9.5 mm (1/4x5/8 in.) |
| 10 | Pinch Clamp |
| 11 | Bag Hanging Rod |
Specifications
| Tube Material | TPE / C-Flex / Silicon / EVA |
| --- | --- |
| Tube Length | 50 to 2000 mm (2 x 79 in.) |
| Tube Diameters (IDxOD) | 3.2x6.4 mm (1/8x1/4 in.) |
| | 6.4x9.5 mm (1/4x5/8 in.) |
| | 9.5x12.7 mm (5/8x1/2 in.) |
| | 9.5x16 mm (3/8x5/8 in.) |
| | 9.5x19 mm (3/8x3/4 in.) |
| | 19x25 mm (3/4x1 in.) |
| Connectors | MPC / MPX / Luer / Aseptic / |
| | Needle-free Site |

Port Connector Configurations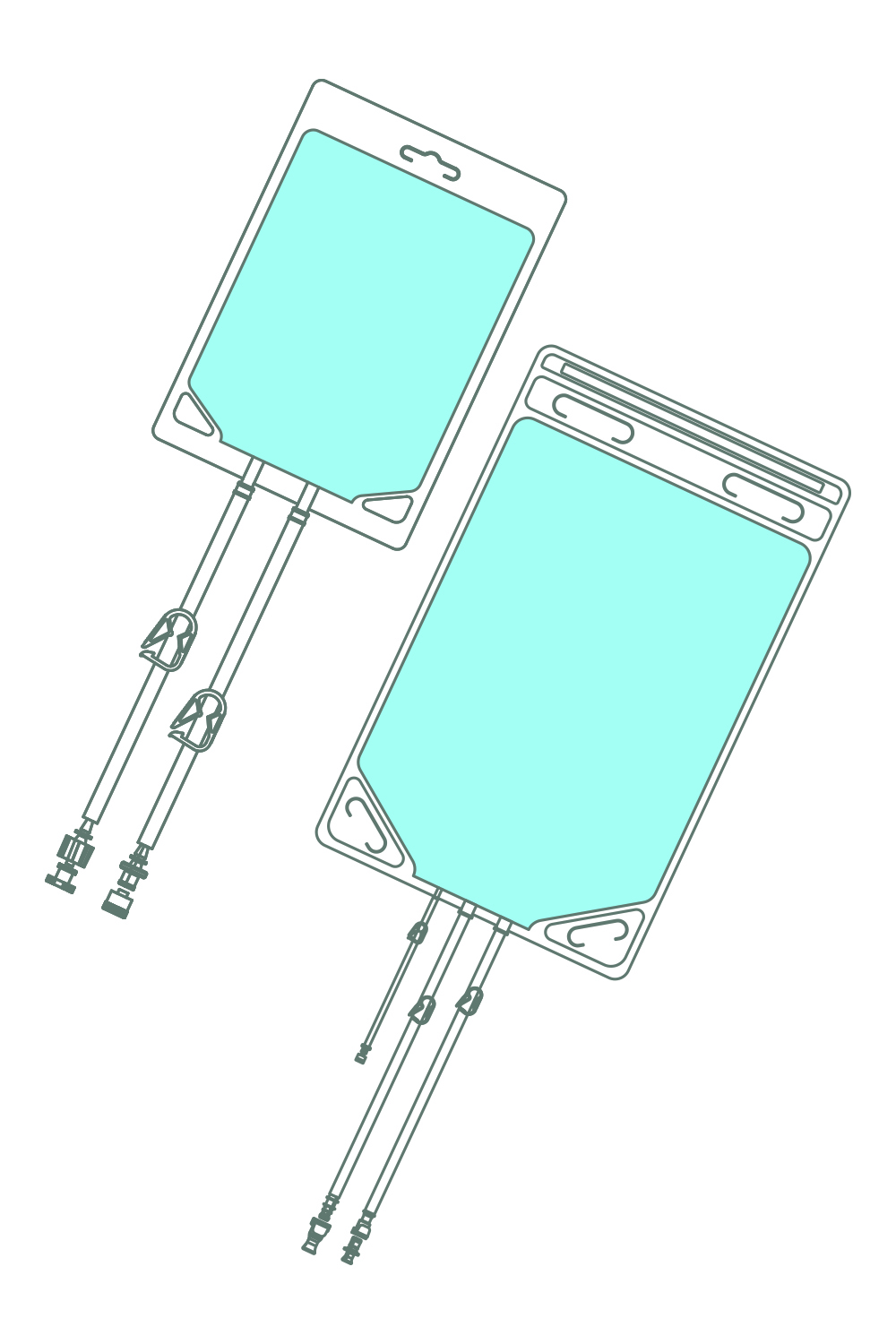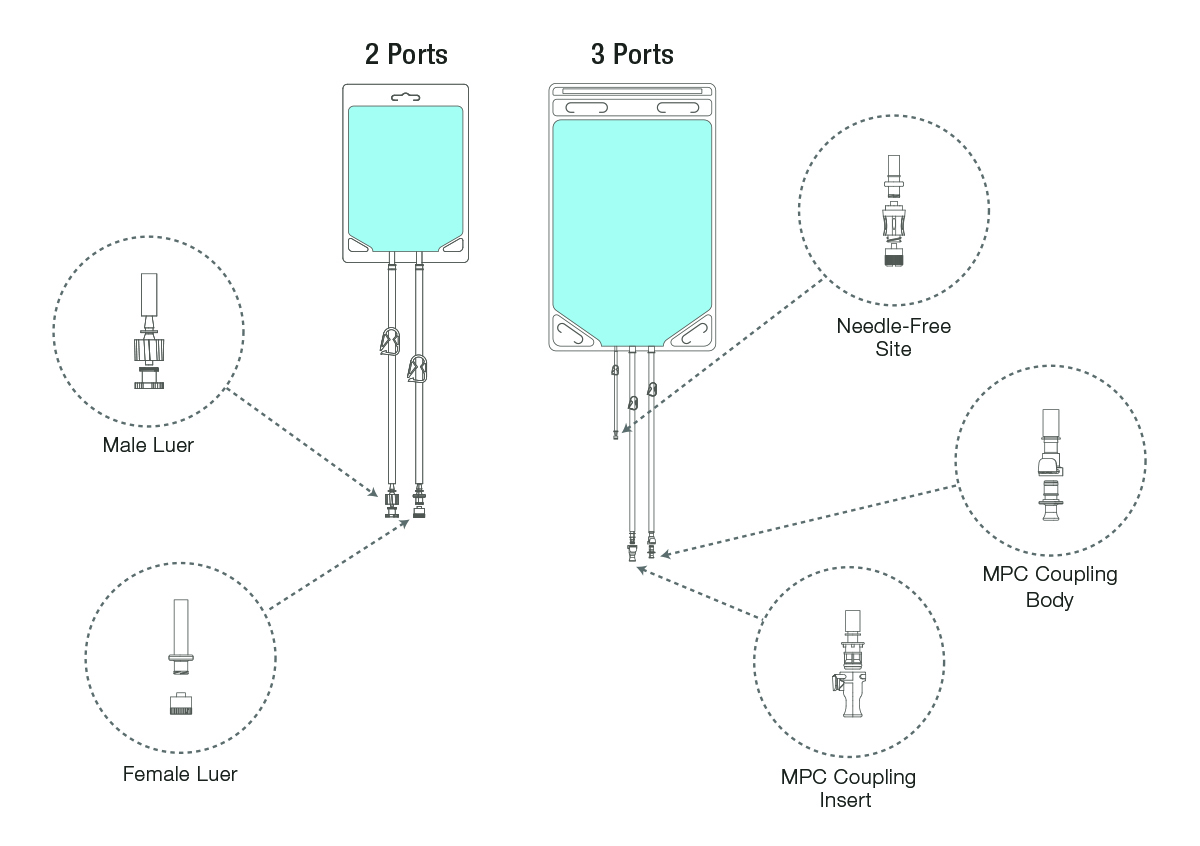 | Bag Volume | Port - 1 | Port - 2 | Port - 3 | Port - 4 |
| --- | --- | --- | --- | --- |
| 3 mL to 10 mL | Male Luer Lock with Cap | Female Luer Lock with Cap | - | - |
| 50 mL to 500 mL | Male Luer Lock with Cap | Female Luer Lock with Cap | - | - |
| | MPC/MPX/Aseptic Connector | MPC/MPX/Aseptic Connector | - | - |
| | MPC/MPX/Aseptic Connector | MPC/MPX/Aseptic Connector | Needle-Free Site | - |
| 1 L to 200 L | Male Luer Lock with Cap | Female Luer Lock with Cap | - | - |
| | MPC/MPX/Aseptic Connector | MPC/MPX/Aseptic Connector | - | - |
| | MPC/MPX/Aseptic Connector | MPC/MPX/Aseptic Connector | Needle-Free Site | - |
| | MPC/MPX/Aseptic Connector | MPC/MPX/Aseptic Connector | MPC/MPX/Aseptic Connector | Needle-Free Site |
Ordering Information
Part Number
Bag Volume
Bag Dimension
(Width x Length)
Tube Configuration
(ID x OD x Length)
Connectors
2DBCA2TLN01
3 mL
37x40 mm
(1.5x1.6 in.)
T1: 3.2 x 6.4 x 50 mm
(1/8" x 1/4" x 2")
Luer Lock with Cap
T2: 3.2 x 6.4 x 50 mm
(1/8" x 1/4" x 2")
Needle-free Site
2DBCB2TLN01
6 mL
48x48 mm
(1.9x1.9 in.)
T1: 3.2 x 6.4 x 50 mm
(1/8" x 1/4" x 2")
Luer Lock with Cap
T2: 3.2 x 6.4 x 50 mm
(1/8" x 1/4" x 2")
Needle-free Site
2DBCC2TLN01
10 mL
65x63 mm
(2.6x2.5 in.)
T1: 3.2 x 6.4 x 50 mm
(1/8" x 1/4" x 2")
Luer Lock with Cap
T2: 3.2 x 6.4 x 50 mm
(1/8" x 1/4" x 2")
Needle-free Site
2DBCD2TLN01
30 mL
115x110 mm
(4.5x4.3 in.)
T1: 3.2 x 6.4 x 100 mm
(1/8" x 1/4" x 4")
Luer Lock with Cap
T2: 3.2 x 6.4 x 100 mm
(1/8" x 1/4" x 4")
Needle-free Site
2DBCE2TLN01
50 mL
130x125 mm
(5.1x5 in.)
T1: 3.2 x 6.4 x 100 mm
(1/8" x 1/4" x 4")
Luer Lock with Cap
T2: 3.2 x 6.4 x 100 mm
(1/8" x 1/4" x 4")
Needle-free Site
2DBCF2TLN01
100 mL
155x150 mm
(6.1x6 in.)
T1: 3.2 x 6.4 x 100 mm
(1/8" x 1/4" x 4")
Luer Lock with Cap
T2: 3.2 x 6.4 x 100 mm
(1/8" x 1/4" x 4")
Needle-free Site
2DBCG3TCCN01
250 mL
152x207 mm
(6x8.1 in.)
T1: 3.2 x 6.4 x 300 mm
(1/8" x 1/4" x 12")
MPC coupling insert and coupling cap
T2: 3.2 x 6.4 x 300 mm
(1/8" x 1/4" x 12")
MPC Body and Sealing Plug
T3: 3.2 x 6.4 x 100 mm
(1/8" x 1/4" x 4")
Needle-free Site
2DBCH3TCCN01
500 mL
165x232 mm
(6.5x9.1 in.)
T1: 3.2 x 6.4 x 300 mm
(1/8" x 1/4" x 12")
MPC coupling insert and coupling cap
T2: 3.2 x 6.4 x 300 mm
(1/8" x 1/4" x 12")
Male and Female Luer lock with cap
T3: 3.2 x 6.4 x 100 mm
(1/8" x 1/4" x 4")
Needle-free Site
2DBCI3TCCN01
1 L
195x275 mm
(7.7x10.8 in.)
T1: 6.4 x 9.5 x 300 mm
(1/4" x 3/8" x 12")
MPC coupling insert and coupling cap
T2: 6.4 x 9.5 x 300 mm
(1/4" x 3/8" x 12")
MPC Body and Sealing Plug
T3: 3.2 x 6.4 x 100 mm
(1/8" x 1/4" x 4")
Needle-free Site
2DBCJ3TCCN01
2 L
265x345 mm
(10.4x13.6 in.)
T1: 6.4 x 9.5 x 300 mm
(1/4" x 3/8" x 12")
MPC coupling insert and coupling cap
T2: 6.4 x 9.5 x 300 mm
(1/4" x 3/8" x 12")
MPC Body and Sealing Plug
T3: 3.2 x 6.4 x 100 mm
(1/8" x 1/4" x 4")
Needle-free Site
2DBCK3TCCN01
3 L
305x395 mm
(12x13.6 in.)
T1: 6.4 x 9.5 x 300 mm
(1/4" x 3/8" x 12")
MPC coupling insert and coupling cap
T2: 6.4 x 9.5 x 300 mm
(1/4" x 3/8" x 12")
MPC Body and Sealing Plug
T3: 3.2 x 6.4 x 100 mm
(1/8" x 1/4" x 4")
Needle-free Site
2DBCL3TCCN01
5 L
350x440 mm
(13.8x17.3 in.)
T1: 9.5 x 16 x 300 mm
(3/8" x 5/8" x 12")
MPC coupling insert and coupling cap
T2: 9.5 x 16 x 300 mm
(3/8" x 5/8" x 12")
MPC Body and Sealing Plug
T3: 6.4 x 9.5 x 100 mm
(1/4" x 3/8" x 4")
Needle-free Site
2DBCM3TCCN01
10 L
420x630 mm
(16.5x24.8 in.)
T1: 9.5 x 16 x 300 mm
(3/8" x 5/8" x 12")
MPC coupling insert and coupling cap
T2: 9.5 x 16 x 300 mm
(3/8" x 5/8" x 12")
MPC Body and Sealing Plug
T3: 6.4 x 9.5 x 100 mm
(1/4" x 3/8" x 4")
Needle Freesite
2DBCN3TCCN01
20 L
480x700 mm
(18.9x27.5 in.)
T1: 9.5 x 16 x 300 mm
(3/8" x 5/8" x 12")
MPC coupling insert and coupling cap
T2: 9.5 x 16 x 300 mm
(3/8" x 5/8" x 12")
MPC Body and Sealing Plug
T3: 6.4 x 9.5 x 100 mm
(1/4" x 3/8" x 4")
Needle-free Site
2DBCO3TCCN01
25 L
530x720 mm
(20.9x28.3 in.)
T1: 9.5 x 16 x 300 mm
(3/8" x 5/8" x 12")
MPC coupling insert and coupling cap
T2: 9.5 x 16 x 300 mm
(3/8" x 5/8" x 12")
MPC Body and Sealing Plug
T3: 6.4 x 9.5 x 100 mm
(1/4" x 3/8" x 4")
Needle-free Site
2DBCP3TCCN01
50 L
645x885 mm
(25.4x34.8 in.)
T1: 9.5 x 16 x 600 mm
(3/8" x 5/8" x 24")
MPC coupling insert and coupling cap
T2: 9.5 x 16 x 600 mm
(3/8" x 5/8" x 24")
MPC Body and Sealing Plug
T3: 6.4 x 9.5 x 100 mm
(1/4" x 3/8" x 4")
Needle-free Site
2DBCQ3TCCN01
100 L
850x1150 mm
(33.5x45.3 in.)
T1: 9.5 x 16 x 600 mm
(3/8" x 5/8" x 24")
MPC coupling insert and coupling cap
T2: 9.5 x 16 x 600 mm
(3/8" x 5/8" x 24")
MPC Body and Sealing Plug
T3: 6.4 x 9.5 x 100 mm
(1/4" x 3/8" x 4")
Needle-free Site
2DBCR3TCCN01
200 L
1000x1450 mm
(39.4x57.1 in.)
T1: 9.5 x 16 x 600 mm
(3/8" x 5/8" x 24")
MPC coupling insert and coupling cap
T2: 9.5 x 16 x 600 mm
(3/8" x 5/8" x 24")
MPC Body and Sealing Plug
T3: 6.4 x 9.5 x 100 mm
(1/4" x 3/8" x 4")
Needle-free Site